The Lawrence Barn Dance Assn. has been organizing old-time music and dance gatherings for 20 years.
And though Jane Pennington hasn't been twirling and toe-tapping with the group for nearly that long, Saturday night's 20th anniversary celebration held a warm place in her heart.
"For me what's special is I met the man of my dreams here," she said.
Pennington met Daniel Pennington at an association dance and was his partner for three years before he worked up the nerve to ask her out. Six months later, they were engaged. Now, they're married.
"It is a very good place to meet people," she said.
No kidding. At least a dozen other couples met the same way.
It must just be the natural outcome of the friendly environment, where each new dance brings a new partner, and veteran dancers embrace newcomers with a smile and an extended hand.
Some 80 people turned out at the Woodlawn School gymnasium to celebrate the association's 20th year. On tables in the lobby, a smattering of fliers announced contra dances from year's past and a photo album displayed aging photos of longtime board members, like Carl Graves and City Commissioner Mike Rundle, who founded the association with Catherine Baer.
"It's been one of the most enjoyable experience that I've had," Graves said. "It's one of the reasons I live in Lawrence."
Dancers, some of whom had never before been to a barn dance, swung their partners and do-si-doed as string band Natural Causes played and Enid Cocke called out steps. Those who got lost made up their own moves, laughing all the while.
Unlike square dance groups, whose members must go through training to learn dozens of specialized moves, people who attend association events can get a quick lesson before the dance and fit in just fine, Graves said.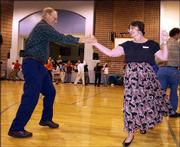 "We're not the poofy skirts and the string ties," he said. "Learning 10 moves will get you through most everything."
The association holds regular dances the third Saturday of every month, a major dance weekend once a year and advanced dances when a month happens to have a fifth Saturday.
Carol Tracy has been attending the dances for several years now.
"I enjoy social activity, and I like dancing," Tracy said. "We're just out here to have fun."
Rundle, who retired from the association board several years ago, said helping plan the 20th anniversary celebration "brought back a flood of memories."
Among the photos in the picture album were shots of Rundle in the 1980s, dancing in suspenders on a flatbed truck, rolling down Massachusetts Street during a parade.
Sandra Kubal of Columbia, Mo., revisited Lawrence for Saturday's dance after a long hiatus. She used to come more often for the "great dance and great people."
As she headed for the dance floor, hugging old friends along the way, she remarked, "This is like a reunion."
Copyright 2018 The Lawrence Journal-World. All rights reserved. This material may not be published, broadcast, rewritten or redistributed. We strive to uphold our values for every story published.