York, Pa. — The former mayor was acquitted and two other men were convicted Saturday in the shotgun slaying of a young black woman during race riots that tore apart York in 1969, the verdicts all but closing the books on a crime that has haunted the city for more than three decades.
Former mayor Charlie Robertson, 68, cried after the all-white jury's verdict was read, saying later the tears were "from prayers."
Robertson and two other men were tried in the death of Lillie Belle Allen, a preacher's daughter from Aiken, S.C., who was gunned down by a white mob on July 21, 1969.
All three men had been charged with first- and second-degree murder. Robert Messersmith and Greg Neff were convicted of second-degree murder and face sentences of 10 to 20 years in prison; jurors also had the option of convicting them of manslaughter.
Allen's family members said they would continue to seek others they believed were responsible.
"A piece of me is satisfied, but I know this wasn't the beginning and it's probably not the end," said Michael Allen, 41, son of Lillie Belle Allen. "Justice isn't perfect, but it's all we have."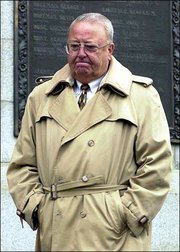 Lille Belle Allen's sister, Hattie Dickson, who was driving the family car the night Allen was killed, smiled widely during a news conference a stark contrast to her recent, serious public demeanor.
"I feel two have got theirs," Dickson said. "And we're not going to stop there. We are a strong family."
The jury had deliberated for about 10 hours in a three-day period, and it appeared at times to struggle to come to a conclusion. At one point Saturday, jurors asked the judge if it was too early to declare a hung jury; the judge said yes and sent them back to deliberate.
"It's been two years," Robertson said after the verdict. "I'm a little tired and I'm going home."
The long-unsolved case is nearly finished: Of the 10 white men charged in Allen's slaying, six pleaded guilty earlier and await sentencing. The final suspect faces trial later.
Copyright 2018 The Associated Press. All rights reserved. This material may not be published, broadcast, rewritten or redistributed. We strive to uphold our values for every story published.