Norman, Okla. — Other than the outcome, this wasn't the way Nate Hybl had hoped to play against Texas.
Hybl, Oklahoma's senior quarterback, got knocked out of last year's Texas game with a shoulder injury and watched as Jason White who came off the bench to lead the Sooners to a victory.
Hybl went into last week's game against the Longhorns excited about the opportunity to go the distance in the biggest game of the year, and to play well.
He got half his wish. Hybl took every snap, but he threw four interceptions and struggled as No. 2 Oklahoma won 35-24. Afterward, he said the Sooners won despite him.
"You try your hardest to just let it slide off your back, but it gets tough to forget about it," he said this week as the Sooners (6-0, 2-0 Big 12) prepared for today's game with No. 9 Iowa State (6-1, 3-0) and its dazzling quarterback, Seneca Wallace.
"My teammates the entire game were saying, 'Don't worry about it, we've got you.' That means a lot."
Players and coaches are still behind Hybl, who until last week had not had a pass picked off. One poor game, they say, isn't about to change anything.
"He's somebody that I hold in high regard," said left guard Brad Davis. "He's taken a lot of heat. If he throws a pick, he's criticized for weeks to come. It's not really fair."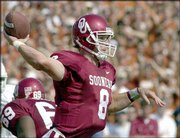 Hybl's first three interceptions led to 17 Texas points and helped put the Sooners in a 17-11 hole in the third quarter. The score was 17-14 heading into the last quarter.
Coach Bob Stoops pulled Hybl aside and told him the only thing that mattered was how Hybl would play in the final 15 minutes.
In the fourth quarter, Hybl was 3-of-4 for 54 yards. Perhaps his biggest completion of the day was a 36-yard pass to Will Peoples that set up a touchdown that made it 28-17.
Stoops, a former defensive coordinator, said the variety of defenses quarterbacks face makes it more difficult than ever to at that position. He also said when the opponent has a strong defense, as Texas did, that side of the ball will make its share of plays.
"Nate's not going to be perfect every game," he said. "Has he been good enough to get us in this position, 6-0? I think he's played in a great way."
Copyright 2018 The Associated Press. All rights reserved. This material may not be published, broadcast, rewritten or redistributed. We strive to uphold our values for every story published.