Washington — Almost two-thirds of Americans, including a majority of investors, say it's a bad idea to make a substantial investment in the market, says an Associated Press poll taken at a time the market has dropped to its lowest levels in years.
"When the stock market takes a beating," said New York teacher Jane Feldman, "our future takes a beating."
People were asked if they had $1,000 to spend whether they thought it would be a good idea to invest it in the stock market. The poll for the AP was conducted Oct. 4-8 by ICR/International Communications Research of Media, Pa.
The poll found that only 29 percent said it was a good idea and 64 percent said it was a bad one. Just over half of those who said they had investments in the stock market or mutual funds thought it was a bad idea.
Those numbers have moved gradually in a negative direction since April 1998, when two-thirds said in a Gallup poll that they thought it was a good idea. By early 2001, just over half of those surveyed in an AP poll said it was a bad idea.
"I really have lost quite a bit of confidence in the stock market," said Feldman, a 36-year-old substitute teacher from Rodman, N.Y. She referred to the struggling economy and corporate wrongdoing.
Some $2 trillion in value has been erased from the stock market during the past year as investors were rattled by a wave of big corporate accounting scandals. Some think confidence could take time to return.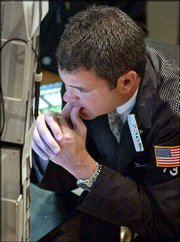 "Sometimes you have a quick turnaround, but this looks a lot like the late '60s," said David Wyss, chief economist for Standard and Poor. "People had a love affair with the market until the late '60s, then it took them a long time to regain confidence."
More people say interest rates and the job market affect them the most personally. Only one-fifth said the stock market affected them the most, though that number grows to one-third among those who make $75,000 a year or more.
About 42 percent of people polled said they have investments in the stock market or a mutual fund.
Those who still think investing in the stock market is a good idea are often people who consider the investment long-term.
The number who say their family's financial situation has been affected is four in 10, although only one in 10 say it was affected in a "major way," according to the poll of 1,012 adults. The poll has an error margin of plus or minus 3 percentage points.
Copyright 2018 The Associated Press. All rights reserved. This material may not be published, broadcast, rewritten or redistributed. We strive to uphold our values for every story published.