Overland Park — Chancellor Robert Hemenway says Kansas University's Edwards Campus is like the movie "Field of Dreams."
In the movie, a farmer is told fans will flock to his rural baseball field with the phrase, "If you build it, they will come."
"In the case of the Edwards Campus," Hemenway said, "we built it, and they did come in very large numbers."
Hemenway was among the officials and donors who gathered Monday at the Edwards Campus to break ground on a new building that will allow students to attend in even larger numbers.
The new 82,000-square-foot building will be constructed west of the current building at 127th Street and Quivira Road. It will include 18 classrooms, three computer labs, 30 faculty offices and a 240-seat auditorium. The current building includes about 55,000 square feet.
The new $17.2 million facility will be paid for by $5 million from the Hall Family Foundation of Kansas City, Mo., $3 million from the Victor and Helen Regnier Charitable Foundation of Leawood and $9.2 million in state bond money paid from student fees.
The building will be named for Victor and Helen Regnier. Victor Regnier was a Johnson County developer, business owner and homebuilder who died in 2000. His wife still lives in Johnson County, though she wasn't able to attend Monday's event due to poor health.
Bob Clark, vice chancellor for the campus, said he hoped to double enrollment after the building opens in summer 2004. This fall, there are about 2,100 students enrolled, up 80 percent from enrollment when the campus opened in January 1993.
"We could be growing faster than that," Clark said.
With the new building, KU will increase the number of Overland Park programs offered to 39 from 22. That includes both additional undergraduate and graduate degrees.
The new building is part of a 10-year, $71 million expansion plan that, when completed, would give the Edwards Campus 355,000 square feet of classrooms and offices in four buildings.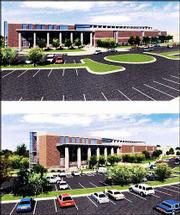 "The impact on (the Johnson County) economy cannot be understated," Clark said.
Bob Regnier, Overland Park, said the building was a fitting tribute to his parents.
Despite only receiving a high school diploma, Victor Regnier loved learning and spent his shore time in the Navy wandering the halls of the Museum of Science and Industry in Chicago, his son said. Helen Regnier graduated from Syracuse University in New York.
"My parents had a great respect for the value of education in society," Bob Regnier said. "I know if my dad were here today or my mother were able to be here, they'd be very proud to be a part of this project."
Staff writer Terry Rombeck can be reached at 832-7145.
Copyright 2018 The Lawrence Journal-World. All rights reserved. This material may not be published, broadcast, rewritten or redistributed. We strive to uphold our values for every story published.