United Nations — A Korean-American protesting against the North Korean government emptied a seven-shot pistol in front of U.N. headquarters Thursday, hitting several offices but injuring no one, authorities said.
The gunman was identified as Steve Kim, a naturalized U.S. citizen who works at a U.S. post office in Des Plaines, Ill. FBI spokesman Jim Margolin said Kim was born in 1945 and that agents were trying to confirm he was born in Korea.
The shooting occurred at 12:10 p.m. CDT as the Security Council was meeting on Iraq and Secretary-General Kofi Annan was talking with Cypriot leaders in his office on the 38th floor.
U.S. Secret Service agents protecting visiting Cyprus President Glafcos Clerides apprehended Kim in the compound outside the building.
Margolin said Kim was expected to be arraigned in federal court in Manhattan for violation of the protection of foreign officials act.
The shots, fired from a Smith & Wesson pistol, hit a women's restroom on the 18th floor and an American Express office on the 20th floor of the U.N. Secretariat building. McCann said several shots narrowly missed U.N. employees inside the building.
Kim entered the U.N. compound by jumping over a poorly guarded fence surrounding U.N. headquarters. He walked up to the building, shot seven times in the air and then dropped the pistol on the ground, witnesses and security officials said.
He then tossed a stack of leaflets from a black bag before he put his hands up against a wall and awaited capture.
The leaflets were handwritten in English with many misspellings and were addressed to "all people who love freedom and justice."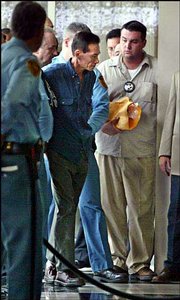 Copyright 2018 The Associated Press. All rights reserved. This material may not be published, broadcast, rewritten or redistributed. We strive to uphold our values for every story published.