New York — In "Hell on Heels: The Battle of Mary Kay," Shirley MacLaine stars as the real-life, larger-than-life cosmetics queen Mary Kay Ash, who 40 years ago brought a revivalist's zeal to direct marketing while giving her saleswomen a self-esteem makeover.
Part of what fired them up were the 30-room pink house, the pink Cadillacs and other flashy symbols of Mary Kay's success. But even after building her billion-dollar Dallas-based empire from scratch as a middle-age single mother, she hit a few rough spots.
"Hell on Heels" catches up to Mary Kay late in life, when she faces a challenge from a direct-sales cosmetics upstart, BeautiControl, run by younger, hipper Jinger Heath (played by Parker Posey).
Will Mary Kay and her housewife disciples (including rising saleswoman Lexy Wilcox, played by Shannen Doherty) get their makeup smeared by BeautiControl? This rollicking portrait tracks the battle with humor and affection.
Mary Kay is a role MacLaine seems born for.
"I guess I like playing those Texas women," MacLaine says. "For me, Mary Kay is right up there with Aurora Greenway" her Oscar-winning role in the 1983 hit "Terms of Endearment."
But until she was approached to star in "Hell on Heels," MacLaine had never heard of Mary Kay Ash.
Then she read Mary Kay's motivational books and screened films of her rousing appearances at company seminars.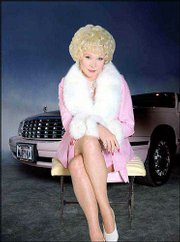 "I thought: 'I've got to play this woman!'"
She shot the film in July, savoring Mary Kay's taken-from-life declarations such as: "P-and-L means more than Profit and Loss it also means People and Love."
"Spiritualism and materialism she put them together," MacLaine says. "She honestly believed, and said so, that God was working through her. She would have these seminars and they would all bow their heads in prayer and she would say, 'Lord, help us find our territory!'"
As Mary Kay claimed to channel the Lord, so MacLaine apparently channeled Mary Kay.
"You know how actors say, 'I like to inhabit the character'? Well, I like the characters to inhabit me."
Copyright 2018 The Associated Press. All rights reserved. This material may not be published, broadcast, rewritten or redistributed. We strive to uphold our values for every story published.