People aren't dying to buy Jayhawk caskets - at least not yet.
But the president of Collegiate Memorials is trying to change that.
The Macon, Ga., company, which builds caskets featuring the logos of 50 universities, is set to begin marketing its Kansas University model next year, President Scott Walston said.
"Personalizing is an important aspect of the funeral home industry," Walston said. "We see a lot of college loyalty."
Collegiate Memorials has had rights to the KU and Jayhawk logos for about a year, but it didn't sell its first KU casket until this week. Bart Yost, co-owner of Rumsey-Yost Funeral Home in Lawrence, decided to order a display model after hearing about the caskets from the Journal-World.
"We've never had anyone ask about that," Yost said. "It's just another choice. I can't see what they'd find offensive."
KU receives royalties of 8 percent - between $127 and $191 - on any casket sales, said Paul Vander Tuig, KU's director of trademark licensing. The caskets, with KU sewn into the velvet interior of the casket lid, range in price from $1,590 to $2,390.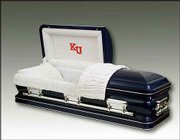 "There hasn't been a lot of marketing of that particular product," Vander Tuig said. "It's not going to kick us into a new income tax bracket."
Walston said the caskets were about $300 more than comparable caskets without university insignias.
"The money's going to be spent anyway," he said. "Why not send it back to your school?"
He said the biggest seller was the University of Nebraska casket, with 50 sold. He thinks KU's basketball tradition could give the Jayhawk model comparable success.
Walston said his company also would have a marketing push to funeral directors in Texas, Mississippi and Missouri next year. They're in negotiations with Kansas State University for a Wildcat casket.
Walston said many children ordered university caskets for their parents, then signed up for one themselves.
"Our concept is really about how a college education has contributed to a person's life goals and life achievements," he said. "We have tremendous respect for the integrity of the school. We do it tastefully. We don't do anything outlandish."
Yost said he thought the Jayhawk caskets could find a market in Lawrence.
"It wouldn't even have to be a big sports fan," he said. "It could just be someone who likes KU for whatever reason. You just never know until you try."
Copyright 2018 The Lawrence Journal-World. All rights reserved. This material may not be published, broadcast, rewritten or redistributed. We strive to uphold our values for every story published.