Neither rain nor sleet nor snow nor lousy football will keep Jon Beougher from Memorial Stadium on Jayhawk game days.
Beougher has been to every Kansas University home football game since 1962, when he arrived in Lawrence as a college freshman.
"I say my claim to fame is I've seen every play of every game," he said. "I haven't been in the concessions or restrooms or arrived late or left early. I've seen a lot of bad games in a lot of bad weather."
Beougher, 58, spent the first 10 years of his life in Lawrence. His family watched KU football games from Campanile Hill overlooking the stadium.
Then he moved away, only to return as a freshman in the KU School of Education and member of the KU golf team. That's when the streak began.
"It's part of my lifestyle," he said.
During the past 40 years, Beougher has witnessed KU win 56 home games, lose 61 games and settle for two ties.
Overall, the Jayhawks are 184-240-7 during the period.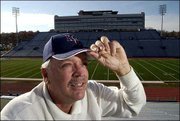 The best home records were in 1973 (5-0-1) and 1981 (6-1). The worst home season was in 1966 (0-4).
They've also been 1-5 in four seasons: 1972, 1978, 1987 and 1988. This season could join that list if the Jayhawks lose today to Oklahoma State University, which they play at 1 p.m.
Beougher will be there again, sitting in the seat " Section 39, Row 30, Seat 7 " he's had for several years.
His father used to go to games with him. After his father died, Beougher's neighbor and former co-worker, Bill Scott, began using Beougher's other season ticket.
Beougher lives in Bonner Springs, where he taught seventh-, eighth- and ninth-grade language arts classes for 31 years until retiring in 1998. He also has season tickets for KU basketball games.
Beougher admits it's sometimes difficult to sit through losing football seasons, including this one. He says he seeks subplots for entertainment.
"You just try to learn who the players are and enjoy their development," he said.
He wished all KU fans showed the same dedication.
"It's kind of embarrassing when you're sitting in the reserve seats of the Williams Fund people, and you're surrounded by purple or red from K-State or Nebraska," he said.
Copyright 2018 The Lawrence Journal-World. All rights reserved. This material may not be published, broadcast, rewritten or redistributed. We strive to uphold our values for every story published.