Islamad, Pakistan — Pakistan test-fired a second missile capable of reaching neighboring India, as world leaders tried Sunday to contain the rising tensions between the two nuclear-armed countries.
India has downplayed the missile tests, but Prime Minister Atal Bihari Vajpayee renewed his concern about terrorist attacks from Pakistan-based fighters, saying "the infiltration of militants into India has to end."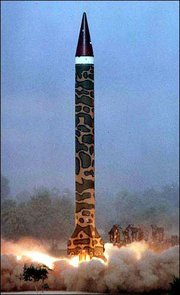 In Paris, President Bush said the United States had expressed to Pakistan its concerns about the tests. But he said he is more interested in seeing Pakistani President Gen. Pervez Musharraf take action to prevent attacks in Indian-controlled Kashmir, where Indian soldiers and civilians have been killed.
India says the attacks are the work of Pakistan-based Islamic militants waging an insurgency.
"I'm more concerned about making sure ... that President Musharraf show results in terms of stopping people from crossing the line of control," Bush said Sunday after meeting with French President Jacques Chirac. "Stopping terrorism. That is more important than the missile testing."
The day before in Russia, Bush urged Musharraf to make good on a January promise to curb Islamic militants. In January Musharraf banned five groups, which have vowed to take their revenge and are blamed for brutal attacks on foreigners in Pakistan.
Musharraf has privately signaled that he is preparing to acquiesce to Indian demands that he do more to curb the activities of militants blamed for the terrorist attacks across the border, officials in Islamabad said.
He is due to address the nation on state television today and the expectation is that he will announce his intention to take further measures to rein in the Kashmiri militant groups.
Pakistani officials said the military conducted the first-ever trial of a new short-range missile, the Hatf-III or Ghaznavi. With a range of 175 miles, it could reach India's border regions, where hundreds of thousands of soldiers face Pakistani troops in a standoff.
The launch came despite international pleas for the two countries to ease tensions and followed what Pakistan said was the successful test-firing Saturday of a Ghauri missile with a range of 900 miles, far enough to reach deep into India.
Both missiles are capable of carrying conventional and nuclear warheads. Fear of a major conflict between India and Pakistan is heightened because both have developed nuclear weapons since their last war, in 1971.
Pakistan says the series of missile tests ending Tuesday have nothing to do with tensions with India. India says it was informed of plans for the tests and, while "not impressed" with the timing, is not concerned about them.
Indian and Pakistani soldiers have been exchanging small arms fire for more than two weeks leaving dozens of villagers dead. Indian police said Sunday that five civilians were killed and four others wounded on the Indian side of the frontier overnight.
Vajpayee said Sunday that world opinion supports India's position "that cross-border terrorism has to stop."
"When the world is fighting terrorism and American forces are in Afghanistan fighting the forces of terrorism, then how and for how long can India tolerate terrorism?" he asked.
Copyright 2018 The Associated Press. All rights reserved. This material may not be published, broadcast, rewritten or redistributed. We strive to uphold our values for every story published.