Concord, N.C. — Keeping pace with his jam-packed itinerary was only one of Robby Gordon's problems Sunday.
Gordon's chance to drive 1,100 miles in two races nearly ended on pit road in the Indianapolis 500 when the vent hose from his fuel tank got tangled in the car, ignited a huge fire in the pit and cost him precious seconds early in the race.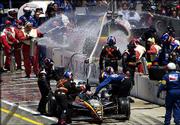 Gordon made it out of the pit unscathed, although the 45-second delay on the 81st lap essentially blew his chances for a victory.
He finished eighth. When it was over, he was whisked by golf cart to a helicopter to begin the 400-mile journey to North Carolina for NASCAR's Coca-Cola 600, which began at 4:30 p.m. CDT.
His helicopter dropped him on the grass at Lowe's Motor Speedway at 3:32 p.m. plenty of time to unwind before the race.
He finished 16th at Charlotte, never having a car to challenge for the win and finishing the race with cramps.
Was all the trouble worth it?
"Oh, yeah, it's worth it," Gordon said. "We would have had a chance to win if it weren't for the pit fire, so it was definitely worth it."
Nobody was injured in the pit-road fire, although crew member Mark Weida said it made for a few harrowing moments.
The crew doused the pit area and Gordon's car with water and foam. By the time the fire was out and the vent hose was untangled from the car, Gordon had spent 75 seconds in the pits and dropped from fifth place to 13th.
Gordon only lost eight spots because the accident happened during a yellow flag. Still, Weida agreed that it probably cost his team a chance at winning the race.
"If we would have had better track position, we thought we could have run with them," Weida said. "It would have been nice to see what happened."
Instead, Gordon could only hope for a better result in North Carolina.
He and Richard Childress, who has a stake in both the Indy and NASCAR cars Gordon drives, left the track in a helicopter and were taken to the Indianapolis airport where Childress' private plane awaited for the trip east. Another helicopter was awaiting there to take them to Lowe's Motor Speedway in Concord.
Gordon, who qualified 12th for the NASCAR race, had to start 38th, the penalty for missing the pre-race driver's meeting.
A former open-wheel driver who now rides full-time in NASCAR, Gordon ran in both races in 1997, but rain pushed the Indy 500 to Monday.
Two years ago, he ran in both, but a rain delay caused him to miss the start of the Charlotte race, and some don't consider that feat a "true" double.
It wasn't Gordon's first run-in with a scary fire.
Last August, a fire inside the car knocked Gordon out of a NASCAR race in Watkins Glen, N.Y. That fire was caused by a faulty battery inside a device used to provide data for TV viewers. Gordon had one of the best cars that day, and NASCAR responded by making the equipment optional in cars instead of mandatory.
Copyright 2018 The Associated Press. All rights reserved. This material may not be published, broadcast, rewritten or redistributed. We strive to uphold our values for every story published.