The circus came to town Sunday.
And a group of animal rights activists was there to meet it.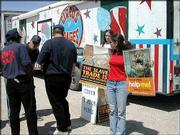 As Circus Pages, a traveling, family-owned affair from Myakka City, Fla., set up shop inside a Douglas County 4-H Fairgrounds building, Animal Outreach took a stand outside.
"They have a lot of entertainment without animals, and that's what we want to promote," said Judy Carman of Lawrence, who helped start Animal Outreach a year ago. "People can say no to walking the tightrope. People have a choice. Animals don't."
Carman and her group handed out fliers detailing Circus Pages' 13 citations for failing to meet different federal standards from September 1992 to September 2001. They also handed out elephant stickers that said "Be an ele-friend: Circuses are no fun for animals."
The group played an undercover tape showing Carson & Barnes Five-Ring Circus training its animals. Animal Outreach protested that circus last week in Topeka.
Circus Pages workers often stood in front of the television, blocking the video from sight. But besides a few people, including a man who also owns a traveling circus, Carman said the response had been positive.
"Most of the people have been friendly," she said. "Some have read our information and left."
Circus manager George Pages said his show generally ran into protesters wherever it stopped.
"I just wish they would protest with the facts," Pages said. "You can't judge a whole industry by a bad apple. We're family-owned and family-operated. Why would we want to hurt our own animals? We'd have to pay for the veterinary care."
Pages said only two of his animals were taken from the wild, and his two elephants were scheduled to be euthanized.
Erin Malone, Lawrence, brought her children to the Sunday-only event. Animal Outreach member Paige Stonerock handed them an elephant sticker, which the children put on their shirts.
"I can understand why they protest," Malone said. "But the kids love it, so that's the reason I'm here."
Copyright 2018 The Lawrence Journal-World. All rights reserved. This material may not be published, broadcast, rewritten or redistributed. We strive to uphold our values for every story published.