Cannes, France — As a young boy in Poland, Roman Polanski lived through the horrors of the Holocaust.
Now, the acclaimed director has returned to the land of his boyhood to make a stirring, highly personal film about the period one he says he always knew he'd make, but needed to wait until he was a more mature filmmaker.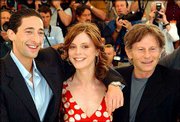 Polanski, 68, also was waiting for the right material. He didn't want to tell his own story: While Polanski survived the Krakow ghetto, his parents were taken to concentration camps, and his mother never returned.
Polanski found his material in the memoirs of Wladyslaw Szpilman, a brilliant Polish pianist who managed to escape the Warsaw ghetto and ultimately survive with the help of a German officer.
"The exciting thing about finding this material," Polanski says, "is that it wasn't TOO personal it was something I know about, remember very well, something that could help me recreate the events without talking about myself."
"The Pianist" is Szpilman's story, and it features a standout lead performance by Adrien Brody. So deeply did Brody immerse himself in the role that he learned to play the piano, practicing for hours each day, and much of the playing in the film is his own.
"I had to lose a lot of weight, which was difficult, and I had to learn to play Chopin, which was even harder," says the New York actor.
Polanski, who was born in France but moved to Poland with his parents two years before World War II broke out, has an incredible memory for details from the period, says scriptwriter Ron Harwood from the Nazi uniforms to the way the troops walked to the size of a typical dustbin of the era.
"When we needed more color, Roman would remember something that happened to him," Harwood says.
For example, when Szpilman is about to be herded on a train to the Treblinka death camp, he is suddenly saved by a friend who pulls him out of the crowd. He starts to run, but the friend says, "Don't run. Walk." It was Polanski who knew that running would only draw attention to the man.
Copyright 2018 The Associated Press. All rights reserved. This material may not be published, broadcast, rewritten or redistributed. We strive to uphold our values for every story published.