Philadelphia — Patience can be a virtue in baseball. There's something to be said for not being stampeded into making changes simply for the sake of doing something when things don't go as planned.
That's obviously the approach the Phillies have taken. General manager Ed Wade thought this spring he had constructed a team that could compete. And he's sticking to that belief, determined not to overreact even though the only thing that has kept his club in contention is the top-to-bottom mediocrity of the rest of the NL East.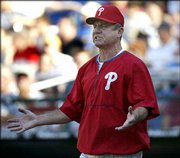 It's fair to point out, however, that other teams take a different approach.
The Brewers, Rockies, Royals and Tigers made early managerial changes. And in Colorado, at least, it seemed to make a difference. Under Buddy Bell, the Rockies were 6-16. Since Clint Hurdle took over, they are 17-8.
"After getting Buddy fired, they talked about feeling guilty and that they needed to take responsibility," Hurdle said. "They needed to re-evaluate themselves."
In Detroit, the Tigers have won six straight since changing the left side of their infield by acquiring Chris Truby from the Expos and calling up shortstop Ramon Santiago from Triple A Toledo.
The Cubs called up No. 1 draft pick Mark Prior even though he had never pitched a pro game before this year and he beat the Pirates in his debut on Wednesday.
And then there are the Oakland Athletics. Like the Phillies, the team to which they traded Jeremy Giambi, they expected to contend this season. Like the Phillies, they have a losing record. Unlike the Phillies, they made a series of moves this week. And the players are braced for more.
"We keep on hearing there might be more stuff going on," third baseman Eric Chavez said. "Everybody is coming into the clubhouse and looking around, making sure everybody is there."
Added cleanup hitter Jermaine Dye: "I'm sure there will be more changes in the near future. Nobody is safe, no matter who they are."
Which only goes to show that there are different ways to try to reach the same goal.
l
Hot stuff: Negotiations between the Reds and retired closer Jeff Shaw have reached the money stage. Which is curious because Danny Graves is doing a good job saving games and Scott Sullivan is one of baseball's best setup relievers.
Robin Ventura has hit 12 home runs for the New York Yankees after devising an unusual way to rehab his injured shoulder.
"I took up surfing," he said. "It turned out to be great shoulder work. If anybody's ever gone out there and battled that board out into the water, they know it's hard work."
There's speculation that Oakland bench coach Ken Macha will replace Buck Martinez as Toronto's manager next season. Blue Jays general manager J.P. Ricciardi worked for the Athletics for 16 years before being hired by the Jays during the offseason. Coincidentally, Macha and Martinez were roommates with Toronto in 1981.
l
Lost Causes: Former Phillies farm clubber Miguel Asencio, a righthander taken by the Kansas City Royals in the Rule 5 draft last December, got a spot start Tuesday. He held the Angels hitless for 42*3 innings and ended up allowing one run in five innings.
"I think we have to give this kid another shot," said an impressed Royals manager Tony Pena. "I don't think he could have pitched better than what he did."
Said Angels manager Mike Scioscia: "He shut us down as well as any pitcher we've seen."
Rockies catcher Bobby Estalella, once a hot Phillies prospect, was released by the Yankees late in spring training. He caught on with the Rockies, has started 11 of the last 16 games and has four doubles, four homers, 10 RBI and is batting .278. "It hasn't been an easy road by any means," he said. "Right now I'm just trying to go out and show what I can do."
l
Quotable: Diamondbacks manager Bob Brenly watched in disbelief as his middle relievers gave up 10 runs on 15 hits Wednesday night against the Giants. "We've all watched (nature channels) and a feeding frenzy and that's what happened," he said. "I don't think it would have mattered who we threw out there."
l
Cheers: To San Diego's Bubba Trammell, who put down a perfect sacrifice bunt Sunday, the first of his professional career after 1,692 at-bats. "(Manager Bruce) Bochy asked me if I could lay down a bunt. I told him, 'All you have to do is ask,'" he shrugged.
l
Jeers: To Atlanta's first basemen. The average National League team has 25 RBI out of that position. Wes Helms and Julio Franco have combined for seven. Is it any wonder that the Braves are interested in Travis Lee?
l
Stat of the week: Here's a good indication of how feeble the Indians' offense is. In the eighth inning at Detroit on Monday, manager Charlie Manuel sent Brady Anderson (.163) up to bat for Jolbert Cabrera (.125). When the Tigers made a pitching change, Manuel pulled Anderson and used Bruce Aven (.111) instead.
l
Injury of the week: Orioles left fielder Marty Cordova missed Wednesday's game after burning his face when he fell asleep in a tanning booth.
l
Finally: The Yankees held Derek Jeter Bat Day on Sunday.
Feel free to insert your own Ruben Rivera punch line here.
Copyright 2018 The Lawrence Journal-World. All rights reserved. This material may not be published, broadcast, rewritten or redistributed. We strive to uphold our values for every story published.