Los Angeles — As the Sacramento Kings roared to an embarrassingly big lead in a deathly silent building, the Los Angeles Lakers had a funny feeling.
For perhaps the first time since Shaquille O'Neal and Kobe Bryant began their domination of the NBA, the two-time defending champions felt helpless.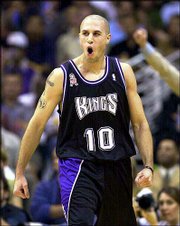 Chris Webber had 26 points and nine rebounds, and Mike Bibby scored 24 points as the Sacramento Kings grabbed a 2-1 lead in the Western Conference finals Friday night, beating the Lakers 103-90.
The Lakers aren't used to searching for answers, but they were as shocked as everyone else after losing for just the fourth time in their last 28 playoff games.
What's more, this one was shaping up as a debacle of historic proportions until a blistering fourth-quarter rally made the final margin respectable. Sacramento led by 27 points in the second half.
"We stumbled and fumbled around out there for three quarters," Lakers coach Phil Jackson said. "They did a great job defending and keeping our offense off-kilter. They had just about every shot they wanted in the book, and they were hitting them.
"We felt like we were a visitor here, and they were the home team."
The loss, following a narrow defeat in Game 2, gave Los Angeles consecutive playoff defeats for the first time since the 2000 conference finals.
Game 4 is Sunday in Los Angeles, with Game 5 Tuesday in Sacramento.
It might have been the franchise's biggest victory in 51 years, but the Kings didn't do much celebrating of their first postseason win in Los Angeles.
"It's a big night for our fans, because we feel like we're a good road team," Webber said. "We play so well at home, but sometimes when you get on the road and you release that pressure, it can help you a lot."
Bryant scored 16 of his 22 points in the fourth as Los Angeles scored 14 points in 53 seconds during a 27-12 run yet the Lakers still never pulled within 10 points.
Webber punctuated the victory with an alley-oop dunk on a pass from Bibby with a minute left. After the buzzer, Webber pointed at a small section of Sacramento fans and whooped in joy.
Doug Christie had 17 points and 12 rebounds for the Kings, who were at the peak of their high-flying game for the first three quarters. Meantime, the Lakers were booed by their Staples Center fans when they fell behind 75-52 after three quarters.
With the exception of O'Neal, who had 20 points and 19 rebounds, the Lakers looked unaccountably flat and listless. Bryant, whose bout with apparent food poisoning from a room-service cheeseburger limited him in Game 2, missed nine of his first 12 shots as he struggled to find his legs and his rhythm.
"I don't think we get a lot of credit," said Vlade Divac, whose defense even was praised by O'Neal.
"We have confidence. We doubled him, and we were more aggressive. Nobody can guard him one-on-one."
Four days after ending the Lakers' 12-game road playoff winning streak, the Kings improved to 5-0 on the road in the playoffs. Playing their fifth straight game without injured All-Star Peja Stojakovic, the Kings got 14 points from Hedo Turkoglu, his young replacement in the starting lineup.
The Lakers are trailing in a playoff series for just the second time since Jackson arrived in 1999. Los Angeles lost Game 1 of last season's NBA Finals to Philadelphia before winning four straight.
Before the series, the Lakers questioned whether Sacramento's free-flowing style could win in the playoffs. It won emphatically in Game 3, though the Lakers' poor shooting and some good defense had plenty to do with it.
It has been three years since Sacramento lost a road playoff game to anyone except the Lakers. With 17 wins in their last 19 road games dating to the regular season, the Kings have played with freedom and flair away from the intensity of Arco Arena and it quickly showed up at Staples Center.
As the Lakers did in Game 1, the Kings raced to a huge early lead with a scintillating first quarter. The Kings scored 14 straight points during a 25-6 run in the first two quarters.
Kings 103, Lakers 90
SACRAMENTO (103)
Turkoglu 6-13 1-4 14, Webber 12-21 2-4 26, Divac 5-11 1-2 11, Christie 4-10 6-8 17, Bibby 8-14 6-9 24, Pollard 0-2 0-0 0, B.Jackson 3-6 5-8 11. Totals 38-77 21-35 103.
L.A. LAKERS (90)
Fox 1-9 2-4 4, Horry 3-8 1-1 8, O'Neal 9-20 2-6 20, Bryant 8-24 2-2 22, Fisher 2-6 0-0 4, Walker 0-0 1-2 1, George 3-13 0-0 7, Hunter 6-11 0-0 14, Shaw 4-10 0-0 10, Madsen 0-0 0-0 0, Medvedenko 0-0 0-0 0. Totals 36-101 8-15 90.
Sacramento 32 20 23 28 103
L.A. Lakers 15 25 12 38 90
3-Point GoalsSacramento 6-16 (Christie 3-7, Bibby 2-5, Turkoglu 1-2, B.Jackson 0-2), L.A. Lakers 10-31 (Bryant 4-9, Shaw 2-5, Hunter 2-6, Horry 1-2, George 1-6, Fox 0-1, Fisher 0-2). Fouled outBryant. ReboundsSacramento 62 (Christie 12), L.A. Lakers 63 (O'Neal 19). AssistsSacramento 25 (Webber, Christie 6), L.A. Lakers 25 (Shaw 7). Total foulsSacramento 19, L.A. Lakers 28. TechnicalsSacramento coach Adelman, Divac, Turkoglu, Bryant. A18,997 (18,997).
Copyright 2018 The Associated Press. All rights reserved. This material may not be published, broadcast, rewritten or redistributed. We strive to uphold our values for every story published.