Jerusalem — Israeli soldiers Friday raided a West Bank refugee camp a stronghold of Palestinian militants following back-to-back attacks on Israel's largest fuel depot, a pedestrian mall and a nightclub.
As fighting persisted, an adviser to Yasser Arafat said the Palestinian leader would have general elections this winter, but only if Israeli troops pulled back to positions they had before the outbreak of fighting in September 2000.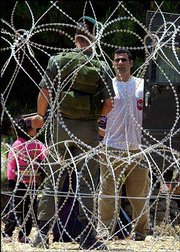 Israeli forces, however, looked poised to stay in the West Bank.
Israel TV's Channel Two reported that the army had been given a green light to launch a new military campaign, including raids into Palestinian cities that could last for several days. Raanan Gissin, an adviser to Israeli Prime Minister Ariel Sharon, said he was not aware of government approval for a new offensive.
In the Tulkarem refugee camp in the northern West Bank, Palestinian militiamen ambushed Israeli soldiers riding atop an armored personnel carrier at the camp's entrance, wounding two soldiers. In the hail of gunfire, one of the soldiers fell from the vehicle, said a Palestinian gunman, who spoke on condition of anonymity. The Israeli army said one soldier was killed.
Tank gunners fired shells and machine guns, and four Palestinians were wounded, including a woman and a 4-year-old child, Palestinian doctors said.
The Israeli military confirmed the exchange of fire.
Israeli troops imposed a curfew in Tulkarem. Israeli soldiers have been carrying out daily arrest raids in Palestinian areas following a recent military offensive aimed at dismantling militant groups that have launched scores of bombing and shooting attacks against Israelis.
A brief lull in attacks ended this week.
In a third attack in 28 hours, a Palestinian militant drove a bomb-laden car at high speed toward a Tel Aviv night club early Friday, but was shot and killed by a security guard. The assailant tried to blow up the Studio 49 club in Tel Aviv, where about 200 people were partying about 1 a.m.
Copyright 2018 The Associated Press. All rights reserved. This material may not be published, broadcast, rewritten or redistributed. We strive to uphold our values for every story published.