Wichita — Sloppy, inconsistent and miserable.
Although Friday's weather at Cessna Stadium fit the description, Baldwin High's Eric Brown and Hugh Murphy had javelin performances that were quite different.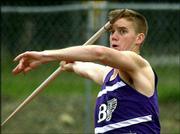 The Bulldog seniors threw in the Class 4A event as though a slight breeze carried their spears under clear skies.
Brown's 197-foot performance earned a gold medal, while Murphy's 195-7 heave garnered a silver.
"Both Eric and I geared our seasons toward state," Murphy said.
That would make sense. Brown and Murphy went 1-2 in last year's javelin when Brown threw 215-10, and Murphy threw 196-0.
Friday's throws weren't quite as good, but neither were the conditions. Mulch was dispersed in the javelin and discus areas to combat the muddy turf.
Officials also used leafblowers to move mud from the javelin runway. Still, the slop continued to accumulate.
But Brown, who will throw at the University of Arkansas next season, and Murphy, who's bound for Brown University, didn't really make adjustments.
"I didn't think we changed too much," Brown said. "I thought we approached it the same way."
Better weather didn't guarantee better results a week before.
At Class 4A regionals last Friday in Tonganoxie, Brown threw 190-7 for first place and Murphy 184-7 for second place.
Murphy couldn't explain the difference in distances.
"We threw off grass," Brown said. "It was even nice."
Baldwin High won the regional team title, but is tied for second at state with Marysville and Scott City at 18 points.
Towanda-Circle leads the team Class 4A team competition with 26 points.
"We're where we thought we'd be and Circle's where we thought we'd be," Baldwin coach Mike Spielman said.
Murphy also took seventh in the discus and 12th in the shot put.
Copyright 2018 The Lawrence Journal-World. All rights reserved. This material may not be published, broadcast, rewritten or redistributed. We strive to uphold our values for every story published.