New York — Merrill Lynch & Co. will pay a $100 million fine and change compensation for its stock analysts in a settlement designed to usher in a new era of analyst independence on Wall Street.
The deal reached Tuesday with New York Atty. Gen. Eliot Spitzer requires Merrill Lynch to stop rewarding its 800 analysts for helping the firm win investment banking fees for arranging mergers and new stock offerings.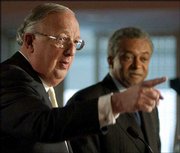 Spitzer charged that some Merrill Lynch analysts misled investors by rating shares of companies highly so they could get investment banking business from the same companies.
Now Merrill Lynch's analysts will be paid only for the quality of their stock research and won't get any money generated from the firm's investment banking division.
"By adopting the reforms embodied in the settlement, Merrill Lynch is setting a new standard for the rest of the industry to follow," Spitzer said.
The nation's biggest brokerage also apologized, and agreed to put in place structural reforms to ensure its stock analysts work independently from the firm's investment bankers.
Spitzer said he hopes the Securities and Exchange Commission, which regulates brokerages, will require all Wall Street firms to comply with the terms.
Spitzer said he spoke with SEC chairman Harvey Pitt Tuesday morning before announcing the settlement, but did not disclose details.
Annette Nazareth, the SEC's director of market regulation, praised Spitzer's work on the issue but said the SEC would continue with its own probe. She said the SEC would work with Spitzer on analyst reforms.
"While this settlement is an important milestone for investor protection, it is not the finish line, and will not preclude our own efforts on behalf of the investing public," Nazareth said.
Copyright 2018 The Associated Press. All rights reserved. This material may not be published, broadcast, rewritten or redistributed. We strive to uphold our values for every story published.