Eric Smith's wrinkled up nose said it all: Squids are a little freaky.
First, they sort of smell like a fish that's been out of water for a while. Second, there's a really big eye that stares right at you.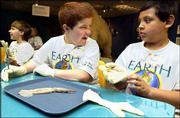 But that didn't stop Smith and other students from McKinley Elementary School in Iola from pulling on surgical gloves and snipping the squids open to examine the organs that reside inside the cephalopod-mollusks.
The youngsters were participating in a recent squid dissection in the new Sea Lab exhibit at the Natural History Museum at Kansas University.
"It's easy to dissect a complex animal," said Dena Podrebarac, museum educator. "Many kids when they sit down (to do the dissection) think it's gross, but by the time it's over they are up to their elbows and they run out of time before they are done."
So far, more than 1,000 students have visited the Sea Lab exhibit, which will run through July.
In addition to exploring the innards of squids, youngsters can learn about Pacific blackdragons, pelican eels and other strange-looking fish that live in deep-ocean waters; watch coral, spider crabs, anemones, shrimp, baby starfish, clown fish and other creatures in a large aquarium; play interactive computer games about sharks and the ocean; and touch sea cow bones and a walrus tusk.
Young children can fill and dump buckets of sand in the beach area, where colorful univalve and bivalve specimens and mounted sea birds are displayed. Adults and children can enjoy the small study room, which has several books about the ocean and its inhabitants at different reading levels.
"We tried to make it a hands-on experience," said Andy Bentley, manager of the museum's ichthyology collection. "It's an evolving exhibit. More things will be added as we go along so people should keep coming back."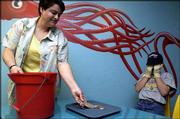 | | | |
| --- | --- | --- |
| | | |
| | The Natural History Museum will be offering squid dissections at 1 p.m. Saturdays throughout the summer.Other summer activities are story time at 10 a.m. Saturdays and density experiments (how and why specific objects and animals sink and float) at 3 p.m. Saturdays.Reservations are not required."Ocean Discoveries Sea Lab" will be open from 10 a.m. to 5 p.m. Saturdays and noon to 5 p.m. Sundays. Groups can reserve times in the Sea Lab Monday-Friday by calling the museum's education department at 864-4173. | |
| | | |
Copyright 2018 The Lawrence Journal-World. All rights reserved. This material may not be published, broadcast, rewritten or redistributed. We strive to uphold our values for every story published.