Indianapolis — For two weeks, George Mack dealt with his demons blown engines, accidents, even vertigo and possibly food poisoning.
On Sunday, Mack overcame them all.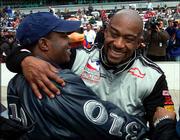 He completed a four-lap, 10-mile qualifying run averaging 227.150 mph to become the second black driver to make the Indianapolis 500 field.
"My dad always said a good driver can drive a wheelbarrow," Mack said. "I'm always faster in qualifying than I am in practice anyway."
Mack's effort Sunday at the Indianapolis Motor Speedway, though, was as unexpected as it was impressive, especially considering the circumstances.
On Saturday, Mack blew an engine. That came after a crash Wednesday, which followed days of struggling to find speed in his G Force. His fastest lap of the month before Sunday was 225.905, which ranked 52nd on the Indy speed chart.
The 30-year-old Mack even had veteran Jeff Ward, who qualified a car for Chip Ganassi Racing on May 11, shake down the car for him Wednesday.
Then came the physical problems. Mack was treated for vertigo Thursday night and also has been battling an upset stomach, which he attributed to food poisoning.
Still ill Sunday, Mack never considered letting a replacement qualify the car, so he went out and fulfilled his childhood dream.
"I wanted to do it myself," he said. "The whole team has been struggling a little bit, but I wanted to drive the car myself, really, unless I couldn't stand upright."
With ideal track conditions Sunday, cool and calm, Mack took advantage.
He hit 227.036 on the first of his four qualifying laps on the 2 1/2-mile oval, then went faster on each of his next two laps before finishing with a 227.126. That was good enough to bump fellow Indy rookie Billy Roe out of the 33-car field.
Mack, an Indy rookie, will start in the middle of the last row, and although he made history Sunday, the driver from Hollywood, Calif., tried to avoid the subject of skin color.
"Am I black?" he said. "I don't really think that's what matters. I think it's all about results. I just think it shows that anybody can do whatever they want to do, regardless of ethnicity."
After his run, Mack was prepared for a long wait to see if his speed third-slowest in the field would be bumped by faster drivers. When rain washed out the final hour and 45 minutes, he had his coveted Indy start, joining Willy T. Ribbs, who raced here in 1991 and '93, as the only black drivers to race at Indy.
He had one regret that his parents couldn't be in Indianapolis with him.
"My dad is probably jumping up and down right now," he said. "My cell phone is probably ringing right now.
The elder Macks are expected to be at the speedway for next weekend's race.
"Obviously, I'm happy," Mack said. "But I'm pretty sick right now, and when I feel better, it will probably sink in."
Copyright 2018 The Associated Press. All rights reserved. This material may not be published, broadcast, rewritten or redistributed. We strive to uphold our values for every story published.