Dr. Ron Lands used to make rounds loaded down with notepads and index cards.
The Oak Ridge, Tenn., oncologist would figure radiation and chemotherapy doses on a pad and leaf through index cards to remind himself about a medication.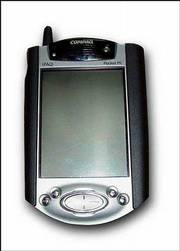 These days it's all on his Palm Pilot. With the tap of his stylus, he can determine doses and look up drugs on the Physicians Desk Reference he downloaded from his computer.
"All this stuff is free," he said. "You can just dump it off the Web into your Palm."
Lands can visit a computer in the doctor's lounge at Methodist Medical Center in Oak Ridge to wirelessly download patient information from the hospital network onto his Palm.
Covenant Health Systems, owner of five Knoxville, Tenn., area hospitals, is piloting this wireless network at its largest medical centers. Among other applications, the network would enable physicians to connect to a hospital's intranet using pocket-sized personal computer devices such as the iPAQ made by Compaq Computer Corp.
As a result, doctors could view patient information in real time, checking on vital signs, test results and X-rays.
Lands is one of a handful of doctors testing the device at the five hospitals, said Mark Maples, Web development manager for Covenant Health.
"We're in piloting to see if this technology is going to work does the capability make patient care better?" Maples said.
Forrester Research, a Massachusetts technology research firm, reported that 11 percent of physicians were using handheld devices like Palms and pocket PCs for transactions at work last year. But the firm predicted that number will boom by 2003, with doctors doing everything from prescription writing to insurance eligibility checking from their PDAs.
The reason hospitals and doctors have adopted these technologies so slowly, according to the report, is a dearth of software applications that made PDAs useful for the health-care industry.
"There's not many programs out there that would automatically sync (PDAs) with a clinical system," said Maples, who had to personally write the software needed for Covenant's PDA projects.
Copyright 2018 The Lawrence Journal-World. All rights reserved. This material may not be published, broadcast, rewritten or redistributed. We strive to uphold our values for every story published.