New York — With the way Roger Clemens is pitching, Bert Blyleven better begin warming up.
Clemens struck out 13 and earned his 287th career win, pitching the New York Yankees past the Minnesota Twins 3-0 Sunday.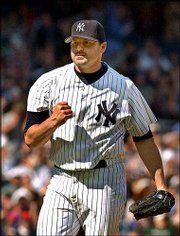 Clemens (7-2) moved past Hall of Famer Robin Roberts and matched Blyleven for 22nd place on baseball's all-time victory list.
"I spoke with him briefly in Minnesota and again here," Clemens said of Blyleven, a Twins broadcaster who was at Yankee Stadium working Sunday's game.
"If I catch him, he's coming back. That's what he said, he's mounting a comeback. I said 'All right, get ready,"' Clemens said.
Clemens gave up four hits in eight innings and won his sixth straight start. He set a season high for strikeouts and walked two.
"He can't go nine, can he?" Blyleven, who last pitched in 1992, said jovially.
"Actually, I think it was great. He's going to continue going up the ladder," he said.
Next up for Clemens on the career victory chart is former Yankees left-hander Tommy John, who is at 288.
On his 125th and final pitch, Clemens struck out Torii Hunter with a high fastball.
"I wouldn't be the pitcher I am if I wasn't able to do that more often than not," said Clemens.
Clemens struck out Denny Hocking three times.
"Pinpoint control and unhittable stuff. He's Roger, he's supposed to pitch like that," Hocking said.
Mariano Rivera pitched the ninth for his 13th save, completing the combined five-hitter and the first shutout against the Twins this season.
Following last weekend's three-game sweep at the Metrodome, the Yankees finished 6-0 against Minnesota this year. For the first time in their 42-year history, the Twins did not win a game against the Yankees.
Robin Ventura hit a two-run homer off Matt Kinney (1-4) in the sixth to help the Yankees to their 11th victory in 12 games.
Minnesota got two hits in the second inning and only two after the fourth.
Red Sox 3, Mariners 2
Boston Brian Daubach doubled in the go-ahead run to lead Boston past Seattle and a win in the series between the teams with the two best records in baseball. The Red Sox took the last two games after losing the opener against the AL West leaders. That enabled them to maintain the best record in the majors (29-11) over Seattle (29-14). Boston manager Grady Little missed the game because of the death of his mother, Dorothy, in Bryan, Texas, on Saturday. Bench coach Mike Stanley ran the team.
Blue Jays 11, A's 0
Toronto Esteban Loaiza didn't take long to prove he is healthy, pitching a two-hitter in his second start of the season to lead Toronto past slumping Oakland. The Blue Jays swept the three-game series against the Athletics, who have lost 13 of 16. It was Toronto's first three-game sweep since last Aug. 24-26 at Baltimore.
Devil Rays 4, Orioles 0
Baltimore Suddenly surging Greg Vaughn hit two more home runs and rookies Travis Harper and Steve Kent combined on Tampa Bay's first shutout of the season. Vaughn, who snapped a homerless drought spanning 222 at-bats with a pair of shots Saturday night, hit his third and fourth homers of the season. He now has 348 career home runs.
Angels 6, White Sox 1
Chicago Jarrod Washburn and two relievers combined on a four-hitter to outduel Mark Buehrle and lead Anaheim over Chicago. Troy Glaus and Darin Erstad doubled and drove in two runs apiece for the Angels, who have won 18 of 21 after starting the season 6-14.
Tigers 2, Rangers 1
Detroit Seth Greisinger allowed one run and five hits in 62*3 innings and Dmitri Young homered to lead Detroit to a three-game sweep. Detroit, which did now sweep a series after the All-Star break last season, has swept two series in the past three weeks. The Tigers took a three-game set from Minnesota on April 26-28 in Detroit.
Copyright 2018 The Associated Press. All rights reserved. This material may not be published, broadcast, rewritten or redistributed. We strive to uphold our values for every story published.