People love traveling.
Pets not so much.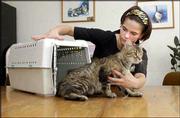 It's true most dogs look forward to a ride in the car, but even they get a little frazzled when the trip stretches into three or four hours on the road or more.
And cats? Forget it. Felines are creatures of habit who loathe the unfamiliar and any surprises. No matter how many fuzzy toys you stuff into their cat carriers, any trip is a good occasion to yowl their displeasure.
Sometimes, though, people either want or need to travel with their furry companions. And there are some important things to know if you're going to hit the road with your pal.
Stacy Hoobler, operations manager at the Lawrence Humane Society, 1805 E. 19th St., offers some tips for those who are going to travel with pets.
"I would say if I were traveling, one of the first things I'd do is call ahead and find a hotel that will allow your pets to stay with you. Because if you stop someplace and they don't allow them, you're going to sleep in the car with your dog," she says.
These days, many motel or hotel chains are willing to accommodate travelers with pets and usually won't charge people any extra for letting the pet stay in the room with them.
As far as traveling with a dog by car, it's important to stop frequently to let your pet get out, romp around a bit and take a bathroom break. This is a good stress reliever for animals.
When traveling with cats, Hoobler says, it's best to keep them inside their carriers, with a small dish of water available, while you're in the car.
"Car trips are real terrifying to most cats. They'll feel safer if they're confined in their crate and not just out in the open. A lot of your crates have water dishes that hook over a bar of the kennel. The kennel itself just needs to be big enough so that they can stand up and turn around in," Hoobler says.
Many people who travel with dogs in the car are using "doggie seat belts" to keep their pets safe and settled. The car seat belt loops through a special harness that the dog wears; this will protect them in case of a collision.
A puppy, meanwhile, is probably better off in a dog crate or kennel, as it may want to play or frolic while the owner is busy concentrating on the road.
It's critically important never to leave a pet locked up in a car during warm weather, Hoobler says. The inside temperature of the vehicle can soar in minutes, creating a risk of brain damage or death.
Keep a very close eye on pets of any kind while traveling, as they could get loose and get lost in unfamiliar surroundings. Dogs should be kept on leashes, and it's better if cats not go outside at all.
And plane travel?
"Airlines are a lot stickier on the rules (regarding pets) nowadays. Some of them don't even fly pets anymore, because they had too many animals dying (in cargo holds). I know they won't fly pets during certain (hot) temperatures," Hoobler says.
"I just recommend calling ahead to check the airline's regulations."
Copyright 2018 The Lawrence Journal-World. All rights reserved. This material may not be published, broadcast, rewritten or redistributed. We strive to uphold our values for every story published.