A diverse group of Kansas University students poised to graduate today first gathered Saturday night to celebrate their collegiate accomplishments.
More than 150 students, faculty, staff and families attended the 26th annual Multicultural Graduation Banquet, themed "Si Podemos," Spanish for "yes, we can."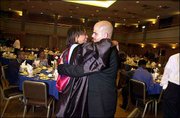 The dinner and awards ceremony, first conducted in 1977 at the Eldridge Hotel, has become a KU tradition that honors graduating students from diverse backgrounds.
Awards in student leadership and athletics were presented, and graduating students received certificates.
Isaac "Bud" Stallworth, business manager for KU's design and construction management and a KU alumnus who played on the men's basketball team during the early 1970s, spoke about the value of an education and the ability to be versatile.
"You have to have a plan B," he said. "Plan A is not always going to work."
He knows that just as well as anyone. In the late '70s, when he was playing NBA ball for the New Orleans Jazz, an automobile accident ended his professional basketball career, he said. But because he had a college degree, he didn't have to worry about what to do next with his life, he said.
He urged the graduates blacks, Asian-Americans, Hispanic-Americans and American Indians to set high goals.
"I don't want you guys to limit yourselves with what you do with your lives," he said. "You all can make a difference. All you have to do is give yourself a chance."
Copyright 2018 The Lawrence Journal-World. All rights reserved. This material may not be published, broadcast, rewritten or redistributed. We strive to uphold our values for every story published.