Four years. No winning seasons. No Big 12 Conference tournaments.
"It was tough," Kansas senior third baseman Ryan Klocksien said. "They only thing that kept me going was the guys on our team."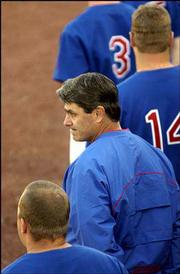 Klocksien couldn't make up for four years of frustration in one day, but on Saturday night he did have the satisfaction of hitting two home runs and driving in four runs in his last game at Hoglund Ballpark.
"It was real special," said Klocksien, a native of Shorewood, Minn. "My parents were here. It's too bad we couldn't have come out with a win."
Kansas State won, 11-9, in a three-hour and 41-minute slugfest to send the Jayhawks even deeper into the conference cellar.
"There have been a lot of close games we haven't won," Klocksien said, "but we have two games to turn things around."
Kansas' long season will conclude with a 1 p.m. doubleheader today against the Wildcats in Manhattan.
"A lot of people will think those games are meaningless," Klocksien said, "but I think it'll show our character."
No one has ever questioned the character of KU coach Bobby Randall's teams. They hustle, they play hard, they keep their heads up.
"I have no regrets," said Klocksien, who doubled his season home run total with his two blasts over the left-center field fence. "The coaches have been great. It just happened we weren't a winning team. Coach expects more out of us and you want to win for the coaches. You feel for both of them."
Randall and assistant coaches Wilson Kilmer and Brett McCabe will learn their fate on Monday, and it's virtually certain none will be retained by athletic director Al Bohl. Randall has repeatedly declined to talk about his status.
After Saturday's game, after he was the only one left in the dugout, Randall talked about how senior starter Jake Wright "didn't have it today. He walked too many." And he talked about how the Jayhawks left 11 men on base.
"We had nine strikeouts and that hurt," Randall said. "Close, but no cigar, close but no cigar. But how about Ryan Klocksien? Two home runs and four RBIs in your last home game. He's done a lot for us, so I'm happy."
Randall always puts on a happy face, yet he surely realized he had coached in Hoglund Ballpark for the last time. A Kansas State grad who went on to play professionally with the Minnesota Twins, Randall was head coach at Iowa State for 11 years before being hired to replace Dave Bingham in 1996.
"I've never lost interest," Randall said about playing and coaching baseball. "It's a privilege. In 35 years I've never taken it lightly."
On Saturday night, Kansas didn't look like a team ranked last in the conference in hitting. The Jayhawks raked four K-State hurlers for 13 hits. Klocksien, Ryan Baty, Matt Tribble, Casey Spanish and Kevin Wheeler collected two hits apiece. Baty, KU's leading hitter, drove in two runs with a double and a single.
But K-State had 14 hits including home runs by Tim Doty and Ty Soto off four KU hurlers. Kansas was also guilty of four errors, but all 11 of K-State's runs were earned.
Wright, who gave seven hits and surrendered six runs in 3 1/3 innings, suffered his seventh loss in 10 decisions. Wright, a Baldwin native, won't accompany the Jayhawks to Manhattan today so he can attend KU's commencement ceremonies.
Jeff Davis (5-4, 3.38 ERA) and Dan Olson (4-3, 4.00), also seniors, will start today's twinbill for the Jayhawks, 5-19 in the Big 12 and 22-27 overall. K-State climbed to 11-13 in the league and 26-23 overall.
Copyright 2018 The Lawrence Journal-World. All rights reserved. This material may not be published, broadcast, rewritten or redistributed. We strive to uphold our values for every story published.