Washington — Senior U.S. State Department officials are growing increasingly troubled by deteriorating political conditions in South Asia, as India said Saturday it was expelling the Pakistani ambassador to New Delhi and thousands of villagers fled fighting in the disputed Kashmir region.
"We have repeatedly stated our strong concerns about the potential for conflict between India and Pakistan," Jo-Anne Prokopowicz, a State Department spokeswoman, said Saturday.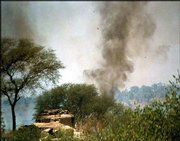 The two nuclear-armed neighbors long have been at odds over Kashmir, the Himalayan region split between them. Fighting in the area escalated last week to its highest level this year, causing officials in Washington, D.C., as well as in South Asia to wonder whether the area was on the brink of all-out war.
To try to calm matters, U.S. Secretary of State Colin L. Powell spoke in recent days by telephone with Indian and Pakistani government leaders, Prokopowicz said.
In addition, she said, Christina B. Rocca, assistant U.S. secretary of State for South Asian affairs, returned Thursday from the area after high-level attempts at mediating the growing crisis.
Prokopowicz said the nuclear capabilities of both countries remained among top U.S. concerns.
Kashmir long has been a political trouble spot between India and Pakistan. India is mostly Hindu; Kashmir, like Pakistan, is predominantly Muslim.
Indian Prime Minister Atal Behari Vajpayee met Saturday with his Cabinet and intelligence officials, trying to come up with a response to an attack on an army camp Tuesday that killed more than 30 people. India blames the attack on Pakistan-based Kashmiri separatists.
After the sessions ended, the prime minister announced that Pakistan's ambassador to India was being ordered out.
Copyright 2018 The Lawrence Journal-World. All rights reserved. This material may not be published, broadcast, rewritten or redistributed. We strive to uphold our values for every story published.