The sound of squeaky tennis shoes won't be heard any longer at Grant School, the 40-student country school east of Lawrence Municipal Airport. No more annual Pie Night, Baking Day or Ice Cream Social extravaganzas. The antique metal slide will be hauled away. The next generation will grow up at Woodlawn School.
But hundreds of Grant supporters are expected to return Friday to write the final chapter of the school's history.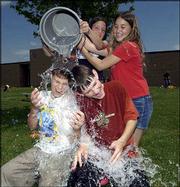 The "Four Decades Celebration" involving past and present students, teachers, staff and families will culminate in an evening of food, song, speeches and fireworks. The public observance was planned after the Lawrence school board in October responded to Grant's dwindling enrollment by voting to close the rural elementary.
But closing Grant won't diminish pleasurable memories.
"As I think about outstanding memories of Grant School, I think first about ... families," former principal Paulette Strong said. "We could count on parents to step in at any point for any reason."
Jan Dicker, who taught at Grant for 18 years and will move next year to Centennial School, said the bonds forged between students and teachers ran deep.
"The kids really look out for each other," she said.
'Like a family'
Dicker said she still got Christmas cards, graduation announcements and wedding invitations from former students.
Grant sixth-grader Nila Mason said she imagined walking away from Grant would feel like leaving home for college.
"It's like a family," she said. "You know all the people well."
Third-grader Meagan Biehn said she wouldn't forget the good friends she made when she came to Grant after kindergarten.
"I don't think they should close it because kids have fun here," Biehn said.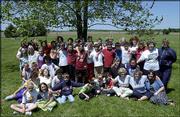 Planners of the "Four Decades Celebration" are assembling a Who's Who of Grant supporters for the school's final ceremony, which will double as a program honoring the sixth-grade class. The "graduation" event begins at 6 p.m.
A barbecue picnic will follow at 6:30 p.m., with live music from the bluegrass band Bluestem. At 8 p.m., there will be tribute speeches and singing of popular songs of the past four decades.
Class pictures of Grant students and alumni will be on display along with student-painted murals that chronicle life from the 1960s to the present.
"It's kind of a like a reunion party," said Julie Boyle, the district's director of communications.
It will be capped with a fireworks show coordinated by Marvin Pine, a veteran Douglas County fireworks vendor.
Created in 1961
Grant School, 1853 E. 1600 Road, was created in 1961 by consolidation of four tiny schools White, Oak Ridge, Burnette and Bismarck. In 1966, Grant was absorbed by the Lawrence public school district. There were 102 students at that time, which was enough to fill all the brown brick school's six classrooms.
| | | |
| --- | --- | --- |
| | | |
| | The Four Decades Celebration begins at 6 p.m. Friday at Grant School, 1853 E. 1600 Road. Students, staff, alumni and families can enjoy food, song, speeches and fireworks. | |
| | | |
Declining enrollment by 1981 convinced the school board Grant could get along with a part-time principal.
With two or three teachers in the school, students for many years have been grouped together in multi-age classrooms.
During the past 20 years, Lawrence school board members made numerous attempts to shut down Grant. Most were based on the idea that consolidation would save the district money. But the school's advocates always mustered enough political brawn to repel consolidation efforts.
A significant dip in enrollment there are 39 students at Grant, including 17 sixth-graders convinced just about everybody that a school with fewer than two-dozen students was unacceptable. The building's capacity is 100 students.
'Fought a good fight'
"We fought a good fight for several years," said Emil Heck, who helped with the original campaign to consolidate the four one-room schools. "At this time, I think everybody in Grant has conceded that ... closing is the right thing to do."
Supt. Randy Weseman said the school would be remembered for its wealth of dedicated teachers and parent volunteers.
"There are happy kids there," Weseman said. "What is lacking is the numbers (of students) that create the kind of energy, the climate needed to keep it open as a school."
Eight of the district's 19 elementary schools have more than 300 students.
"Next year you're looking at an unworkable situation," said board member Scott Morgan. "It's a school that lost it's critical mass."
The school has no kindergartners, first-graders or second-graders.
Grant's students will transfer to Woodlawn in North Lawrence. Woodlawn can absorb them without increasing teaching staff.
Officials have not made a decision about what to do with the Grant building.
Copyright 2018 The Lawrence Journal-World. All rights reserved. This material may not be published, broadcast, rewritten or redistributed. We strive to uphold our values for every story published.