San Jose, Calif. — No one who follows the violent turf wars of outlaw biker gangs thinks the bloodshed three weeks ago in Laughlin, Nev., settled anything. More likely, it inflamed the hatred between the Hells Angels and the Mongols motorcycle clubs, which have been brawling for more than a year.
Three riders died and a dozen or so were hospitalized when the Angels and Mongols clashed in a Laughlin casino during a biker rally. Reprisals for the carnage are almost a given.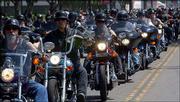 Next stop, Hollister, Calif.
"We're the next big event on the West Coast," said San Benito County Sheriff Curtis Hill. "And those two groups are at war. It's a major concern."
Hollister usually relishes its annual Independence Day takeover by bikers, because most of them are middle-class sport riders who don't want a scratch on their $25,000 motorcycles and who brandish nothing more dangerous than credit cards. This July marks the 55th year since thousands of bikers swarmed over the cow town, got drunk and rowdy and inspired the Marlon Brando movie "The Wild One" which created the mystique of the alienated, outlaw biker.
The town says this year's rally will go on. And that makes merchants happy.
But law enforcement experts who have been tracking the feud say there's plenty to be worried about. Among other things, the Mongols within the past two years opened chapters in Hollister and San Jose Hells Angels country. Two months before last year's rally, Hells Angels knocked a Mongol off his bike and cut off the part of his patch that says "Hollister."
"I think there is no question there will be further violence," said John Schlim, an expert on biker gangs who consults with police departments. "I think we'll see a retaliatory strike by the Angels against the Mongols, just because historically that's what they've done. God only knows where and when it will come."
Not knowing where, when
Knowing where and when has always been the problem. In Laughlin, law enforcement officials knew violence might erupt during the city's annual River Run motorcycle festival, at which more than 70,000 bikers descend on the sandy, second-tier casino town by the Colorado River.
"Intelligence reports indicated the Mongols intended to bolster their status by attacking members of the Hells Angels," said one court document filed after the attack, according to a local paper. Hells Angels leader Sonny Barger also had planned to meet with rival gangs to try to broker a truce, but the sides clashed before that could happen.
About 2 a.m. on the final day of the rally, about 70 bikers battled inside Harrah's Casino & Hotel, knifing and shooting each other as terrified gamblers and dealers dived for cover.
An hour later, Christian Tate, a Hells Angel, was found shot to death on Highway 40 as he rode away from Laughlin. Authorities are still trying to determine whether the slaying was connected to the casino violence.
For those keeping score and both sides are that's a weekend tally of three dead Hells Angels, one dead Mongol.
Ellen Brown, executive director of the Hollister Independence Day Rally Committee, said there had been no talk of calling off the event.
Hollister Police Chief Bill Pierpoint said that even if the rally was officially canceled, thousands of bikers would probably still show up.
As it stands, he said, organizers expect perhaps 70,000 riders.
Helping police will be a new ordinance drafted before the Laughlin shootout that forbids such potential weapons as sheath knives and glass bottles. The measure is expected to get final approval at the next city council meeting later this month.
Sheriff Hill said he was already assigned a sergeant full time to gathering intelligence on the biker gangs, and had another worker reviewing the department's emergency-response plan.
"It's flat-out war," he said. "It will be interesting to see how many people die between now and when they call a peace to this thing."
Hostilities deepen
Barger, through his attorney, declined to comment for this story.
Charles Mathews, an attorney for the Mongols, said the gang planned no reprisals against the Hells Angels.
"They started this mess and it seems they got the worst of it," he said from his Pasadena office. But "if they come calling, then our people will of course do our best to defend ourselves."
Then he joked about Jesse Ventura, the governor of Minnesota, who rode with the Mongols years ago: "We may ask him to come out of retirement and help us if this continues."
The genesis of the current violence is somewhat convoluted.
The ranks of the Angels were thinned by a government sting operation in the 1980s, about the time the gang was in a deadly feud with a rival club, the Outlaws. The government planted an informant in the Hells Angels. The gang designated him to kill a biker who had allegedly done a hit on an Angel. The plan was to blow up the biker's parents' house, then kill him when he went to their funeral, said Tim McKinley, a gang expert from the FBI who retired Friday after 26 years. Other plans included blowing up an Outlaws clubhouse in Chicago.
The plots were captured by wiretap and never carried out. After the convictions, McKinley said, the battle between the Outlaws and Angels began to wane.
Meanwhile, a shooting war was heating up in Denmark, Norway and Finland between Angels and the Bandidos. And warfare in Canada was stacking up more casualties.
Over the past few years, hostilities have deepened between the Mongols and the Angels. The Mongols have been aggressively pushing their way up from their Southern California stronghold into the Hells Angels' Northern California turf, experts say. "To bring another club in like the Mongols is an in-your-face thing," said Schlim, the biker-gang expert. "And, quite frankly, they haven't gotten out of their face, they've been there at every turn."
The Angels, for their part, have been ticking off almost every other gang by absorbing new territory and disbanding smaller rival clubs putting them out of business and adopting some of their members as Angels.
For now, the Angels are standing alone, against almost everyone else. Not only turf, but money is at stake, as the gangs try to spread their tendrils into a variety of illegal enterprises, particularly drug dealing, experts say.
In Laughlin, McKinley said, both sides came primed for violence. "An opportunity arose to do battle and they did battle," he said. "I think it speaks volumes about their commitment to violence that they did it in what is generally recognized as being one of the most heavily surveilled, videotaped places, a casino."
When the next battle comes, Schlim said, "it will be newsworthy. It will have to be to make the kind of point they want to make."
Copyright 2018 The Lawrence Journal-World. All rights reserved. This material may not be published, broadcast, rewritten or redistributed. We strive to uphold our values for every story published.