University Theatre is in the middle of its own drama.
Several Kansas University faculty and staff are upset about a realignment of the theater's administrative structure. But university officials say their reaction is much ado about nothing.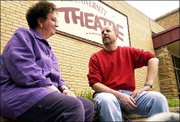 "It's just a small change," said Kathleen McCluskey-Fawcett, interim dean of the College of Liberal Arts and Sciences. "I must say I'm stunned by the reaction."
McCluskey-Fawcett and John Gronbeck-Tedesco, associate dean of the college, told faculty and staff during a departmental meeting Wednesday that the realignment would mean that University Theatre director Delores Ringer would begin answering to the chairman of the theater and film department rather than the dean of the college. The 11-member University Theatre staff also would answer to the department chairman.
For 78 years, University Theatre has been autonomous and separately funded, according to several faculty members. Faculty members' work loads are split 50-50 between University Theatre and the department.
"We needed to reorganize for them to run more smoothly," McCluskey-Fawcett said.
"People's jobs and salaries won't change. There will be no layoffs. It doesn't change the name. University Theatre will continue," she added.
"It will no longer be an autonomous unit but will be connected to the department," Gronbeck-Tedesco said.
However, some faculty and staff members said they were disappointed by the way the decision was made and the possible misuse of letters they wrote opposing department chairwoman Mary Karen Dahl during her review this spring.
According to McCluskey, Dahl "chose to step down" as chairwoman about a month ago during the review process. Dahl did not return messages left for her on Thursday.
"They told us the chair review revealed dissension in the department that none of us were unaware of. So they used the chair review to institute this other action," said Mark Reaney, professor of theater and film.
KU has not announced Dahl's replacement, although it was expected to name an interim chairman who would oversee the theater and film department for two years.
Dennis Christilles, associate professor of theater and film, said he saw five to seven of the letters written opposing Dahl as chairwoman and said none of them criticized the structure of University Theatre.
"There was nothing that indicated there was any problem or need for this to happen," he said. " I didn't have any idea that this was going to be the result of an evaluation of the chair."
Del Unruh, professor of theater and film and former University Theatre director, said the way the realignment was handled was disheartening.
"It fills me with immense sadness because University Theatre as a separately funded, producing entity has a long and very distinguished record," he said. "The thing I feel sadness about for my colleagues is those with appointments in the theater will no longer be resident artists (on the campus). That distinction is being taken away."
Christilles and others said the way the announcement of the realignment was handled showed a lack of respect for the faculty and staff.
"It's not about whether it will work or not work or the details," he said. "It's about the way in which it was dumped on us."
Copyright 2018 The Lawrence Journal-World. All rights reserved. This material may not be published, broadcast, rewritten or redistributed. We strive to uphold our values for every story published.