COLUMBUS, OHIO — You've seen the illustrations of New York cartoonist Arnold Roth even if you don't think you have.
Known for his droll observations through the art of exaggeration, Roth is everywhere in popular American magazines and newspapers.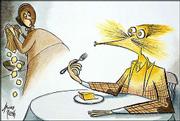 There's the scientist in Discover magazine using a vise to squeeze fleas out of a grumpy cat for an article on fleas. Or the baseball linesman taking a detour around a supine alligator for a Sports Illustrated piece on spring training.
One of his best known illustrations, in Esquire, features a diner whose lips and mustache and eyes and nose are puckering past the universe's known dimensions at the taste of a fresh lemon pie.
Roth's omnipresence is celebrated in a touring exhibit, currently in Columbus, and new book showcasing 50 years of his free-lance work.
Roth has taken the art of exaggeration and honed it to a degree that makes him unique among illustrators, said Nick Meglin, a co-editor of MAD magazine and author of the 1973 "Art of Humorous Illustration," which includes an essay on Roth.
"He doesn't exaggerate to the 100th degree," Meglin said. "He exaggerates with subtlety, which creates a new context which you don't question."
Lucy Shelton Caswell, curator of Ohio State University's Cartoon Research Library, created the exhibit on Roth and edited a book: "Arnold Roth: Free Lance."
The show follows Roth's career through cartoons in Esquire, Playboy, Punch, Smithsonian, Sports Illustrated and dozens of other magazines. It opened in Philadelphia at the University of the Arts last fall and is on display at Ohio State through Friday.
The exhibit then will move to the Cartoon Art Museum in San Francisco. Other destinations include New York, London and Basel, Switzerland.
An American original
Caswell said she finds the energy of Roth's drawings the most interesting and memorable thing about his work.
"Arnie's somebody who makes it look easy, and it is because he has those basics down so very clearly that he can then back off and play around them and with them and we still know what it is that he's doing," said Caswell, who has known Roth and his wife, Caroline, for 20 years.
"Some people try to do that and you look at it and you think, 'I'm not sure what that is, or what he's trying to say to me.' I think with Roth we always know."
Meglin said Roth's style is the least "stolen" of any artist he knows because every idea is different.
"He has such a unique graphic personality that he's not imitated like the others," Meglin said. "He has so many subtle things happening in his drawing that can only be original, it's not borrowed from anything."
Roth grew up in Philadelphia where he began sketching and even selling some illustrations while in high school.
He attended the Philadelphia Museum School of Industrial Arts (now the University of the Arts) to pursue professional cartooning. He finished only two years, though. Roth was kicked out for chronic tardiness, due partly to the late nights he spent supporting himself by playing saxophone in jazz clubs.
"When I say I was late, I don't mean five after nine: I mean 10:30. That kind of thing," he told an interviewer for an introduction to "Arnold Roth: Free Lance."
He began his free-lance career in 1951, working for Charm, TV Guide and Esquire.
From 1959 to 1961 he wrote a color Sunday comic strip, "Poor Arnold's Almanac," for the New York Herald Tribune Syndicate.
One strip, a history of clothes, featured a post-Garden of Eden mortal wearing a skirt of leaves who complains to his tailor, "Sam, you made the plants too long."
Aiding and abetting
In an interview, Roth said that a good drawing should entertain as well as "aid and abet" the subject of an article he's illustrating. He said he never set out to create his own style.
"I never consciously said, 'I'm always going to draw people who look like this,"' Roth said. "It's just the way I drew them."
Now 73, Roth lives and works in New York, still heading to the office every morning. He continues to take as many projects as he can handle, juggling deadlines and work opportunities as they arise.
He prefers a dose of absurdity over outright cruelty in his caricatures and political cartoons.
"I try to put humor in it, and sometimes a little commentary," Roth said. "I guess it's what you call 'off-the-wall.' I have that sort of approach. It's not the only approach, it's not the only good approach, it just happens to be the way I draw."
Copyright 2018 The Associated Press. All rights reserved. This material may not be published, broadcast, rewritten or redistributed. We strive to uphold our values for every story published.