Davie, Fla. — Say you're 71 years old and want to learn about abstract impressionism. Read "Moby Dick" for the first time. Study marine biology.
In Florida's retirement kingdom and throughout the nation, golden agers are choosing wonkish foreign policy chats and Jane Austen discussions instead of games of bridge, shuffleboard and golf. And they're loving it.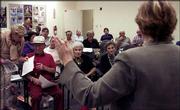 "Do you want to sit around a pool and talk about 'early birds' or come here and exercise something between your ears?" asked Jerry Siegel, who teaches a current events class at Nova Southeastern University's Institute for Learning in Retirement. "It's an obvious decision."
With their ties to universities and community colleges, the institutes have grown in popularity since the 1990s, providing seniors the chance to learn with kindred spirits.
The institutes may become more widespread with the impending retirement of the baby boomer generation. Census figures show the 65-and-over population in the United States could increase nearly 80 percent by 2025.
"I think we'll see these programs expand exponentially in the coming years," said Ron Manheimer, executive director of the North Carolina Center for Creative Retirement in Asheville, N.C.
ElderHostel Institute, the Boston-based organization dedicated to lifelong learning, reports that more than 220 institutes with an enrollment of 50,000 have joined its network since 1988 and the number could reach 350 by 2007.
"We probably get five to 10 phone calls a week from people or colleges that want to start one," said Nancy Mertz, ElderHostel's program manager.
Offering lectures and courses throughout the year, the peer-driven programs typically allow seniors the chance to study history and current events, discuss the classics or take in an opera. For newcomers, it's a chance to meet people with common interests.
"It just keeps you going," said 80-year-old Henrietta Freedman, who helped found an institute at Washington University in St. Louis six years ago. "I can talk about philosophy with my grandson. I'm writing a memoir for my grandson. There's a lot of connections with the future generation through learning."
Nova's program started in the 1970s when some faculty members retired from the New School for Social Research in New York now called New School University and wanted to have an outlet for their academic interests.
With nearly 100 members, the seven-month program offers intellectual stimulation and a support group for the South Florida retirees, some of whom live in the area only part of the year. The program costs $275 a year $500 for couples for access to about 150 classes a year.
During Siegel's recent lecture on "AIDS in Africa," the hands shot up in the air and the discussion weaved through the need for foreign aid, the distribution of the AIDS cocktail and the continent's sexual mores.
Sonya Hirschberg, a snowbird from Putnam County, N.Y., said she hated Florida at first because she doesn't play bridge, tennis or golf. Then a friend introduced her to the institute "and we found the oasis in Florida."
Dr. Walter Bortz, a Stanford University geriatrician and the author of "Dare To Be 100," said the institutes could serve as a way for the elderly to be more engaged in their communities.
"A lot of people are going to get old. The big question is how are they going to get old," Bortz said. "The big question is will we be liabilities or resources?"
"The asset of old people in the past is that we've been repositories of knowledge. We'd like to think that we remain that," he said. "But that's up to us."
Copyright 2018 The Associated Press. All rights reserved. This material may not be published, broadcast, rewritten or redistributed. We strive to uphold our values for every story published.