Charlotte, N.C. — Jason Kidd was the last one off the bus Saturday, dark sunglasses covering his swollen eye. When he took them off, he looked more like a boxer after a title fight than New Jersey's guard.
His right eyelid was swollen and bruised, the clear bandage over his eyebrow doing little to cover the dozen or so stitches underneath it. A second purplish bruise ran diagonally underneath his eye.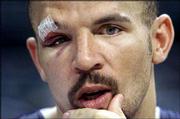 As bad as the wounds looked from Thursday night's bloody, head-to-head collision with Charlotte guard David Wesley, the Nets insisted Kidd's eye was improving and were hopeful he would play today in Game 4 of the Eastern Conference semifinals.
"I can see everything, the eye is opening and has gotten better each day. My vision hasn't been blurred," said Kidd, a towel draped over his head after some light shooting drills.
"I want to play, but if my eye shuts, there's no way I can play. The big thing is to see how I feel in the morning."
The Hornets also will be monitoring their players' health before the game.
Charlotte center Elden Campbell missed practice Saturday with a virus, and the Hornets need desperately for it to be just a 24-hour bug.
Otherwise, Campbell will join leading scorer Jamal Mashburn on the Hornets' list of ill players and likely doom their chances of tying the best-of-seven series at two games each.
Trainer Terry Kofler had the unlucky job of giving coach Paul Silas the news.
"Terry just said 'Elden's not coming,' and your first thought is 'My God, what else?"' Silas said. "After that, he said it's like a 24-hour thing, then you feel kind of relieved because we've got to have the big fella."
Campbell, who has an upset stomach, told Kofler he thought he caught the bug from his children. That's better than if he had caught it from Mashburn, who was stricken with a virus seven games ago that has turned into vertigo and limited his postseason play to 10 minutes in Game 1 of the first round.
Silas said he expects both Kidd and Campbell to be on the floor in Game 4.
"I have no qualms that Elden will play," Silas said. "And with Jason, I've been around long enough to know that if the guy, unless the thing is completely shut, he's going to play."
But the Nets weren't so confident, and coach Byron Scott said he prepared Saturday like backup Anthony Johnson would start.
Kidd struggled after the first-half collision Thursday, playing just five minutes after he and Wesley smacked heads and scoring only four of his 13 points after the injury.
He was hurt when Baron Davis poked the ball away from him on a fast break and, as Kidd reached for it, didn't see Wesley coming.
Kidd got the worst of it, with Wesley leaving the floor a little dazed before he returned with nothing more than a knot on his temple. Wesley played most of the second half.
Copyright 2018 The Associated Press. All rights reserved. This material may not be published, broadcast, rewritten or redistributed. We strive to uphold our values for every story published.