Miami — Patchwork pitching, dazzling defense and some big bats have taken the Florida Marlins to an unusual place: first.
Florida began a weekend series against Los Angeles with a one-game lead over the New York Mets and Montreal Expos in the NL East.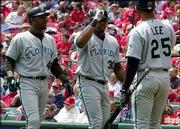 A win Thursday night over San Diego gave the Marlins sole possession of first place for only the 11th time in 1,425 games over their 10-year history, and this is the latest in any season they've been in the lead.
"I hope we're there around Oct. 2," NL batting leader Mike Lowell said. "If that's the case, we can celebrate a little."
Like Minnesota and Montreal, Florida has responded to the threat of contraction with winning baseball. But pennant fever has yet to break out in Miami Thursday's game drew just 5,461 fans, underscoring the franchise's uncertain future.
It'll take more than a couple of days in first place to overcome fan apathy and antagonism that dates to the dismantling of the 1997 World Series champions. But the Marlins have the look of a team built to contend all season.
"I thought the first day of spring training that we could be special," manager Jeff Torborg said. "They've just reinforced that."
What's surprising is that Florida has played its best baseball in the past week with the rotation in disarray. Starters Josh Beckett (finger blister) and Julian Tavarez (strained shoulder) are on the disabled list, and Brad Penny (sore elbow) missed his last scheduled start.
Torborg scrambled to find fill-ins and Florida won six of seven games to climb into first place in May for the first time.
"I don't think this is our best baseball," Lowell said. "We've got to think we'll be better when we've got Beckett and Penny healthy."
Both are expected back early this week, when Florida begins a 15-day trip.
While Torborg crosses his fingers regarding the health of his pitchers, he raves about his defense, particularly the infield of first baseman Derrek Lee, second baseman Luis Castillo, shortstop Alex Gonzalez and third baseman Lowell.
Lowell made the play of the game Thursday, a backhand stop and off-balance throw from foul territory to save a run in a 1-0 victory.
"What's so great about this group is you see some things where you think, 'Did I ever see that before?"' Torborg said.
After struggling the past two years, Gonzalez has 16 RBIs and is flashing the glovework that made him one of the NL's top rookies in 1999.
"The kid at shortstop has been an All-Star for us," Torborg said.
Copyright 2018 The Associated Press. All rights reserved. This material may not be published, broadcast, rewritten or redistributed. We strive to uphold our values for every story published.