Indianapolis — Bruno Junqueira pushed the limits Saturday, winning the pole position for the Indianapolis 500 with a four-lap average of 231.342 mph.
The quiet Brazilian was the first driver to make a qualifying attempt and the first of 24 to make it into the field for the May 26 race.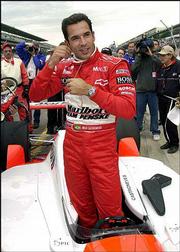 Time trials are scheduled today and again on May 19. Once the field is filled, the slowest qualifiers can be bumped by faster cars until the end of the final round at Indianapolis Motor Speedway.
"Being first is not easy," said Junqueira, the driver who replaced 1999 Indy champion Juan Montoya at Chip Ganassi Racing. "There's more pressure because I don't know what time we have to do and how much to push."
He got it just right, though, starting with a lap of 231.635 and going just a bit slower on each trip around the 21*2-mile oval before completing the 10-mile run with a lap of 230.952.
That was very similar to the simulated qualifying run in Friday's practice that made the 25-year-old Junqueira one of the favorites to win the pole.
A year ago, when he was a raw rookie for Ganassi in the CART series and at Indy, Junqueira qualified 20th and finished fifth here.
"This year, there were better conditions in qualifying for me," he said. "I've got experience and I had time to practice."
Junqueira's qualifying effort was the fastest since Arie Luyendyk set the track records of 237.498 for one lap and 236.986 for four laps in 1996, the last year the IRL cars were powered by turbocharged engines.
A year ago, Scott Sharp set the previous record for non-turbocharged cars with a four-lap average of 226.037.
The increased speed is almost entirely attributed to the speedway's decision over the winter to smooth out the historic asphalt track by grinding it down rather than resurfacing it.
"The way they took the bumps out, it is much smoother," said defending champion Helio Castroneves, who qualified 13th at 229.053. "Everything is because of the track."
Because of a forecast calling for rain both Saturday and today, there was a great sense of urgency when qualifying began.
Other than short delays for two brief showers, though, qualifying activity was virtually continuous for the first 41*2 hours of the seven-hour session.
The track then remained open for practice until the final moments when Luyendyk, a two-time race winner, warmed up for what would have been his third attempt. He pulled off the track before taking the green flag and still has one attempt left in that car.
Castroneves also became one of the pole favorites on Friday with a lap over 232 mph, the fastest since practice began last Sunday. He aborted a qualifying attempt after two laps over 229, then, about an hour later took a four-lap run that was considerably less than he had anticipated.
American Robbie Buhl also waved off his first attempt despite an average around 229. He started his second run with a lap of 229.576, then stacked three straight laps over 231 for the second-fastest average of the day. He went 231.033.
Tony Kanaan, a regular in the CART series and an Indy rookie, had one qualifying attempt wiped out after three laps by a light mist, but went out immediately after the rain stopped and qualified at 230.253.
Copyright 2018 The Associated Press. All rights reserved. This material may not be published, broadcast, rewritten or redistributed. We strive to uphold our values for every story published.