Paktia Province, Afghanistan — The four caves contained one of the biggest munitions caches found by the U.S.-led coalition, and it took British bomb disposal experts just a second to blow it all up.
But in Afghanistan, where the mountains and hillsides are honeycombed with caves that have been used for decades to hide arms for warlords, Islamic rebels, the Taliban and al-Qaida, few coalition commanders have any illusions about searching through them all.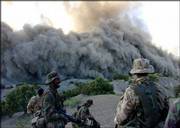 "We'd have to be here for a hundred years," British Lt. Col. Tim Chicken said, looking out over an expanse of desolate hills covered with desert shrubs in southeastern Afghanistan.
A thousand soldiers led by Chicken began sweeping through Paktia province two weeks ago, combing the countryside on foot for possible al-Qaida or Taliban holdouts. None have been found.
The mostly British force also is looking for caves and weapons caches that could be used by the enemy. "They're not generally easy to locate," Chicken said.
Aided by intelligence reports, his troops found and searched four caves dug into rocky hills with pickaxes at Sarom, a few dozen miles south of Gardez. Some were 100 yards deep, stacked floor to ceiling with Russian and Chinese rockets and mortar shells. In all, the caves housed up to 40,000 bombs, some dating to 1940.
Used by Afghan guerrillas to fight Soviet troops in the 1980s, the arms were handed on to warlords and then taken over by the Taliban when they seized power in the mid-1990s. Chicken said nobody claimed to own the caches today.
On Friday afternoon, Chicken ordered all of them destroyed in a single controlled explosion that British officers said was among the largest conducted by Royal Engineers since World War II.
Villagers were warned to stay far away. British troops watching from a hill a mile from the caves turned and ran when huge plumes of black smoke and fire turned into a mammoth wall of brown dust and debris moving rapidly toward them.
Several rockets soared over the valley and explosions continued for hours into the night. On Saturday, fires still smoldered at one of the collapsed caves. A huge crater that partially collapsed a hill was all that was left of another.
"The first goal is that munitions that are destroyed cannot be used against us," said U.S. Army Capt. Tony Rivers. "The second goal is that destroyed munitions cannot injure someone else."
Copyright 2018 The Associated Press. All rights reserved. This material may not be published, broadcast, rewritten or redistributed. We strive to uphold our values for every story published.