Beverly Hills, Calif. — There's no easy way to end a tale of adultery, director Adrian Lyne knows from experience.
In "Fatal Attraction," Lyne orchestrated a literal blood bath for Glenn Close. In Lyne's "Indecent Proposal," Robert Redford makes a noble sacrifice, cutting Demi Moore loose to return to her husband.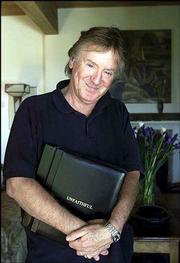 Lyne chose ambiguity for his latest tale of marital infidelity, "Unfaithful," starring Richard Gere and Diane Lane as a couple whose cozy life is wrecked by the wife's fling with a young Frenchman (Olivier Martinez).
Without giving away any of its twists, "Unfaithful" closes with an open-ended finish leaving audiences to debate the couple's fate after two hours of deceit, distrust and jealousy.
It was one of the things the British-born Lyne liked about the screenplay, but he also shot a different ending at the urging of distributor 20th Century Fox, which felt audiences needed a more straightforward resolution.
After a round of preview screenings with the studio's preferred ending, Lyne decided at the last minute to switch back to the uncertain conclusion.
"I always sort of hankered after that ending, so eventually, I got my way," Lyne, 61, said in an interview at his secluded Beverly Hills home. (When not working on a film, Lyne and his wife, Samantha, live at their main home in Provence in the south of France.)
"I thought this way was nice because it treated the audience with some intelligence, really, because it's terribly easy to underestimate the audience. I think studios do it a great deal, actually. With this ending, I thought it would create a controversy, an argument, which I like."
'He's a poll taker'
Never a critics' darling, Lyne has grabbed huge audiences. His biggest hit, "Fatal Attraction," had audiences buzzing over how they might handle an obsessive extracurricular lover in their own lives. "Indecent Proposal" prompted couples to muse about willingly loaning a spouse for a night of sex for $1 million.
His films have aroused ("Flashdance"), puzzled ("Jacob's Ladder"), shocked or even angered audiences ("9 1/2 Weeks"). He's been accused of sexism and exploiting or objectifying women, complaints that "Unfaithful" co-star Lane thinks reflect more on Lyne's critics than the director himself.
"I think it's very flattering to Adrian to think they would expect him to be some kind of sociologist," Lane said. "He's a poll taker. He likes people to expose themselves in their reaction to a film."
Unlike the titillation factor of Lyne's earlier films, "Unfaithful" is a hushed thriller that does feature sex and violence but is told more through the main characters' awkward silences.
"It's not a one-liner movie. It's a bit of a hard sell because it's normal people, 'The Ice Storm' kind of filmmaking, which is literate, smart and subtle," Gere said. "You identify with all the characters. There are no villains, no screeching stalkers. There's no buying sex, no trick to it. We're pretty much looking in the mirror here.
"Adrian's been in that territory before of kind of fearlessly diving in on difficult material. I think a maturity's set in in him where he's really able to explore and be both bold and authentic at the same time."
Carnal knowledge
Whatever reaction "Unfaithful" provokes, it's bound to be an easier time than Lyne had on his last movie, "Lolita," an updated adaptation of the Vladimir Nabokov novel that starred Jeremy Irons as Humbert Humbert, who carries on an affair with his 12-year-old stepdaughter.
Stanley Kubrick filmed an earlier version of "Lolita," starring James Mason as Humbert and Peter Sellers as his foil, Claire Quilty.
While Kubrick's version came to be regarded as a memorable Sellers black comedy, Lyne's "Lolita" was caught in an outcry over child sexual abuse in the mid-1990s, as new laws arose to fight kiddie porn on the Internet.
No U.S. studio would touch the film, on which Lyne spent six weeks in the editing room with a lawyer to excise scenes that could pose legal trouble.
While it played in theaters overseas, "Lolita" initially aired on Showtime in the United States in 1998 before getting a limited theatrical run later that year.
"At the time, it was depressing, but I think it was also naive to expect any of the studios to release a movie that's essentially about pedophilia. Especially in that time frame. I would have said a year ago that you could have released the movie then, but now of course, it would be a disaster again because of the Catholic Church," Lyne said, referring to the sex-abuse scandal involving priests.
After the turmoil on "Lolita," Lyne settled on "Unfaithful," a project he'd mulled for years, inspired by Claude Chabrol's "La Femme Infidele," which Lyne saw three decades ago.
Like his countrymen Ridley and Tony Scott, Lyne started off making commercials in England in the 1970s before turning to feature films with the 1980 teen drama "Foxes," starring Jodie Foster.
Most of his films deal with sexual obsession, and Lyne jokingly concedes that carnal matters are a fixation of his own.
"I suppose it must be," Lyne said. "I think the interesting thing is you can make hopefully sort of a Hitchcockian thriller like 'Fatal Attraction,' but what people take away from it is the sex. They remember the minute of Michael Douglas having sex with her over the sink or in the elevator. That's what people take away.
"Because I guess that's what people are interested in. They are interested in sex. Why wouldn't they be?"
Copyright 2018 The Associated Press. All rights reserved. This material may not be published, broadcast, rewritten or redistributed. We strive to uphold our values for every story published.