Phoenix — Dan Devine groomed Joe Montana for greatness and won a national football title at Notre Dame.
A master motivator and stickler for details, he sometimes angered his players but usually brought out their best.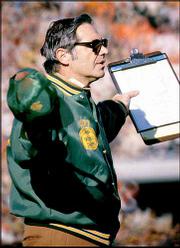 When he died at his home in Tempe, Ariz., on Thursday at age 77 after a long illness, he left the legacy of a winner.
"Dan Devine was a leader of men," said Arizona Cardinals assistant coach Johnny Roland, who played for Devine and later coached with him. "All the programs he undertook were better for it. He was my mentor. He recruited me to play at Missouri and he recruited me into the coaching profession.
"He had a way with people of making them believe in themselves."
Devine went 172-57-9 (a .742 winning percentage) over 22 seasons at Notre Dame, Missouri and Arizona State. As a college head coach, he had just one losing season.
He also coached the Green Bay Packers for four seasons, going 25-27-4.
Devine was elected to the National Football Foundation's college Hall of Fame in 1985.
Arizona State hired Devine as head coach at age 31 in 1955. After three seasons and a 27-3-1 record, he moved to Missouri, where he was 93-37-7 in 13 seasons, with two Big Eight championships and six bowl appearances.
He went to Green Bay in 1971. After going 4-8-2 in his first season, the Packers won the NFC Central at 10-4 the next season. But they fell back to 5-7-2 in 1973 and 6-8 the next year.
By then fans had grown disenchanted and ran Devine out of town.
His final and greatest coaching tenure occurred at Notre Dame, where he replaced Hall of Fame coach Ara Parseghian in 1975. In five seasons under Devine, the Irish were 53-16-1 and won three bowl games.
In 1977, Notre Dame, quarterbacked by Montana and with Bob Golic anchoring a tough defense, won the national championship. The Irish (11-1) beat previously undefeated Texas, led by running back Earl Campbell, 38-10 in the '78 Cotton Bowl.
"I have nothing but the kindest thoughts for him," said Rev. Edmund Joyce, the man who hired Devine and now serves as Notre Dame's executive vice president emeritus.
Copyright 2018 The Associated Press. All rights reserved. This material may not be published, broadcast, rewritten or redistributed. We strive to uphold our values for every story published.