Ryan Vick is one of the lucky ones.
He has a job already lined up after he graduates from Kansas University later this month. But his job at Exxon Mobile in Houston didn't come easy.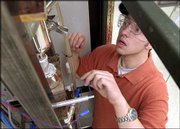 "I feel like I had to work a little harder than previous classes to get a job," he said.
Vick, a Lawrence native, will graduate in chemical engineering, one of the top 10 fields to enter, according to a new national survey of employer demand.
According to the National Association of Colleges and Employers (NACE), engineering and business fields are the best to enter this year. Accounting, mechanical engineering, economics/finance, business administration and electrical engineering top the list.
However, demand for recent college graduates is down 36 percent from last year, according to NACE.
"We have seen a slowdown in the number of hires and the amount of on-campus recruiting that's being done," said Gail Rooney, director of KU's Career and Employment Services. "It doesn't mean companies aren't hiring. It means (students) are going to have to look longer and in a variety of areas."
Simply blaming the slowdown on last fall's terrorist attacks isn't accurate, Rooney said.
"People associate this with 9/11, and that's really not true," she said. "The recession and availability of jobs had begun last spring."
Lisa Leroux-Smith, assistant dean of the School of Business, said business consulting jobs were especially down this year as companies look to trim their budgets. Enrollment in the School of Business' graduate school is up for the fall as students look to weather the recession.
"It's quite clear the job market is down," she said. "But there are students landing good offers."
Cathy Schwabauer, director of the Career Services Center at the School of Engineering, said students have to be more active seeking employers than they were a year ago. Those who received offers have fewer offers than past years.
"Back then, I had companies for students who attended information sessions holding a drawing for a Palm Pilot," she said. "A lot of those companies aren't even here this year."
Rooney said the economic slowdown signaled the importance for students to begin their job search earlier. She said students who "network" with those in their field have a much better chance of getting job offers.
"I do think you have to be more assertive," Schwabauer said, "and use the opportunities that are available here, but also to use other opportunities as many avenues as possible."
Copyright 2018 The Lawrence Journal-World. All rights reserved. This material may not be published, broadcast, rewritten or redistributed. We strive to uphold our values for every story published.