Day on the Hill rocked and Art Tougeau rolled under sunny skies Saturday.
Art Tougeau, Lawrence's annual art-car parade, began at noon in South Park and trucked past hundreds of spectators on Massachusetts Street with decorated cars, golf carts, bikes and scooters.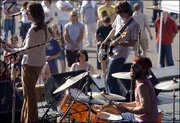 Steve "Tuco" Jacobs and Troy Mumford, of Omaha, Neb., were grand champions for "Wealth and Hell Being," a 1979 Lincoln Continental outfitted with fins, the number "666" and completely covered with $450 in pennies.
"It's the opposite of health and well being," said Jacobs, who began work on the car last July. "It's about just doing what you want and what makes you happy, even though it might not be what's good for you."
Jacobs, who adorned the bumper with stickers from musicians like Alice Cooper, The Cramps and Man or Astro Man, said he had been inspired by movies like "The Car" and "The Munsters."
"I consider the car to be a horror-type monster car," he said.
Other entries included a pedal-powered tractor and grain mill, a Chevy Cutlass Ciera turned into the Beatles' "The Yellow Submarine" and "Toaster Van," built by Paul Schmidt and Chris Koger, Lawrence.
"You just look at a VW van and what does it look like? It looks like a toaster, or a loaf of bread," Schmidt said.
For the third year in a row, New York School entered a truck in the parade. A group of about 30 students, teachers and administrators accompanied the truck on bikes, skates and on foot.
Brothers Malcolm Sims, 12, and Clifton Sims, 11, and Dominicke McCawley, 11, said the students had spent about two weeks designing and painting the truck.
"It wasn't hard, but it took a lot of time," Clifton Sims said.
New York art teacher Hannah Rockhill said it was a valuable experience.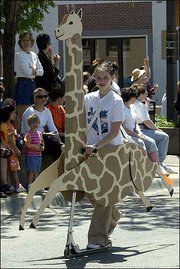 "I think it teaches them that there's art outside museum art," she said. "This is a different venue for artists."
Day on the Concrete
After being postponed last Saturday by rain, Day on the Hill went off without a hitch except for one change: It wasn't on the hill.
Kansas University's annual outdoor music bash was moved to parking lot 91 east of Memorial Stadium because officials were concerned the grass would be torn up for graduation.
The asphalt reflected the early May heat, but that didn't seem to bother many of the estimated 1,000 in attendance. Others, content to sit about 100 yards away, dotted the east side of Campanile Hill.
The event featured an all-local lineup of The Hardaways, Thulium, No Lessons, Hotsauce, Emilia Dahlin and The Anniversary.
"I think by giving the bill to more local bands, it brings the local crowd out," said Traci Pillard, Salina junior and live music coordinator for Student Union Activities.
SUA allots about $15,000 for the event, Pillard said, and after paying production and sound costs, not much is left over to secure nationally recognized bands.
But whether it's local or national, the spirit of the event is about having a good time.
"I think that's what Day on the Hill is all about just coming out on the hill and listening to the music," Pillard said.
Priest Jordan and his wife, Barbara, have lived in the 900 block of Maine Street for about 30 years and stopped by to listen to the music.
"We heard the music and thought we'd come up and enjoy some of it," he said. "I think it's great."
R.C. Davis, bass player in Hotsauce, said he had enjoyed performing at the event.
"It was a nice crowd and a beautiful day," he said.
Copyright 2018 The Lawrence Journal-World. All rights reserved. This material may not be published, broadcast, rewritten or redistributed. We strive to uphold our values for every story published.