Hyderabad, Pakistan — The closed-door trial of Muslim militants charged in the kidnap-slaying of Wall Street Journal reporter Daniel Pearl resumed briefly under tight security Friday after moving from Karachi because of prosecution fears of a terrorist attack, officials said.
But the session was quickly adjourned after the defense appealed to the Supreme Court, saying the trial should be moved back to Karachi, lawyers said. The trial was to restart Monday.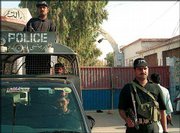 The trial had been suspended for more than a week after Chief Prosecutor Raja Quereshi complained about the judge and security arrangements in Karachi.
Defense lawyers said they thought the move ordered by the Sindh provincial high court at the prosecution's request was pointless.
"The prosecution's plea that the lives of the lawyers, judge and witnesses are endangered in Karachi is absurd," said Abdel Waheed Katpar, lawyer for the chief defendant, British-born Islamic militant Ahmed Omar Saeed Sheikh. "If terrorists can blow up the jail in Karachi, they can blow up the jail in Hyderabad."
The daily, 75-mile road trip east from Karachi exposes the lawyers to further risk, Katpar told reporters outside the Hyderabad jail, where the trial was resuming in a makeshift courtroom.
Copyright 2017 The Associated Press. All rights reserved. This material may not be published, broadcast, rewritten or redistributed. We strive to uphold our values for every story published.