URBANDALE, IOWA — Pipe bombs accompanied by anti-government propaganda exploded Friday in six mailboxes in rural parts of Illinois and Iowa, injuring six people in an attack authorities called domestic terrorism.
Two other bombs were found but did not detonate, and a note found with them said more "attention getters" were on the way. It was signed "someone who cares."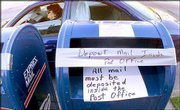 Authorities did not immediately announce any suspects. The Postal Service suspended deliveries through Saturday in the agricultural region that straddles the Mississippi River, and urged residents not to remove any devices they might find in their mailboxes.
"We are reviewing this as a domestic terrorism incident," said James Bogner, an FBI spokesman. "We don't know if all the devices have been found or there are devices remaining ... We probably won't know for a while."
Of the eight devices found, six exploded in mailboxes. It wasn't immediately clear whether the seventh device exploded inside a mailbox.
Jon Peterson of the ATF said late Friday that the investigation was progressing well and officials from an FBI multi-agency terrorism task force and the U.S. attorney's office in Iowa's northern district had a number of leads.
"We are working with our profilers," he said.
Postal Service Inspector Linda Jensen said consistencies in placement suggested the bombs were linked, but that did not mean just one person was involved.
Peterson said that it appears one person could drive to all the communities in a night, and it was safest to assume more devices have not been found.
"If you see anything unusual, wire, tape, string, anything of that nature, contact your local law enforcement. At the very least, be very careful," he said.
None of the injuries was considered life threatening, but Carroll County, Ill., Sheriff Rod Herrick warned residents against opening their mailboxes. "Don't touch your mailbox until further notice," he said.
Marjorie Zuidema said she and her husband, Robert, heard something that sounded "like a bird hitting a window, but a lot louder," when her mailbox in rural Morrison, Ill., exploded Friday.
By the time she discovered what had happened, "the police and FBI, postal inspectors, just about everybody" was at the end of her driveway.
Mail carrier Marilyn Dolieslager's face and left arm were injured and part of her thumb was blown off in the blast, according to her daughter, Jodi Camper.
Also injured were three postal workers in Mount Carroll and Elizabeth, Ill., and Asbury, and two postal customers in Anamosa and Tipton.
Only the Tipton resident remained in the hospital late Friday, officials said.
Other devices were found in Farley and a farm in Eldridge, Iowa.
Copyright 2018 The Associated Press. All rights reserved. This material may not be published, broadcast, rewritten or redistributed. We strive to uphold our values for every story published.