Marie Camille Truscott's "Wind Totem" began as a cold, flat sheet of stainless steel. Using heat and force, she infused it with life bending, welding, cutting, prying until a sanded, gouged column emerged, glinting in the sunlight.
She secured the 10-foot-tall, 150-pound sculpture in the back of a pickup truck and drove it on Thursday from Cedar Falls, Iowa, to Lawrence, where it will stand boldly at the corner of Ninth and Massachusetts streets for the next year.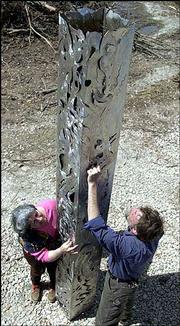 It's one of eight sculptures chosen by a Lawrence Arts Commission committee from a pool of 51 entries submitted from across the country for the 15th Annual Outdoor Downtown Sculpture Exhibition. Within the next two weeks, the new works will replace sculptures that have been displayed at various downtown locations since last spring.
Truscott, whose large-scale pieces also adorn several lawns in Cedar Falls, said it was fulfilling to know her latest expression will be on display where the community will be able to interact with it.
"It's like a completion. It's like having a song sung," she said. "It's very sacred."
Juror Dana Self, curator at the Kemper Museum of Contemporary Art, was faced with a challenging task in narrowing this year's field of entries, said Jeff Ridgway, chairman of the exhibition committee. He said the submissions represented probably the strongest group of sculpture he had ever seen. Chosen artists received a $750 honorarium.
Tom Newport arrived in Lawrence on Friday from Cedar Rapids, Iowa, to drop off his stainless steel sculpture, "Rocket." His next stop was Boulder, Colo., where he was delivering two other large sculptures.
"As a hobby I do pyrotechnic shows so it has a space-age concept to it," Newport said of his work.
The piece, which stands 6 feet tall and weighs 75 pounds, is slated to be mounted outside City Hall, Sixth and Massachusetts streets.
The sculpture's body, made of recycled steel, jets toward the heavens and is encircled by a long, thin curl of steel. Its ground-steel base reflects colors and shapes from its surroundings.
Newport, a full-time sculptor and jewelry maker, was in the Lawrence exhibition two years ago as well.
Other works in the exhibition and their tentative locations are:
"Inside Out," by Alan Jay Glen, Silver Springs, Md., carved stone, Eldridge Hotel, Seventh and Massachusetts streets.
"Whirlwind," by Lynn Olson, Valparaiso, Ind., steel and cement, Teller's, 746 Mass.
"Stainless Steel I," by Kermit Gilbert, Painted Post, N.Y., stainless steel, Lawrence Public Library, 707 Vt.
"Water Tower #1," by Mark Cowardin, Baldwin, porcelain and steel, Lawrence Public Library.
"Alchemy," by Willie Ray Parish, La Union, N.M., painted steel, Lawrence Arts Center, 940 N.H.
"Trefoil in Motion," by Stephen Janesko, Tonganoxie, metal, Douglas County Courthouse, 11th and Massachusetts streets.
Through the years the outdoor sculptures have been targeted by vandals, but Ridgway said the city and the arts commission were committed to continuing what they view as an essential tradition.
"It seems we've gotten farther away from our humanity, especially since Sept. 11," Ridgway said. "The world needs a reminder of our common humanity, and that's what art is."
Copyright 2018 The Lawrence Journal-World. All rights reserved. This material may not be published, broadcast, rewritten or redistributed. We strive to uphold our values for every story published.