St. Louis — No worries for Damian Moss, even though he didn't get a chance to finish his no-hit bid.
The Atlanta Braves rookie from Australia was pulled for a pinch-hitter after seven innings and 116 pitches Friday night.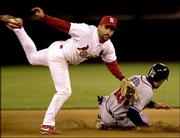 "I knew about the no-hitter, but that was the last thing on my mind," Moss said. "Obviously, I was getting there and the bullpen's been great all year, so that's a wise choice to make."
St. Louis got its first hit on Fernando Vina's one-out single in the eighth off reliever Mike Remlinger. Chipper Jones hit a two-run homer in the 11th, and the Braves beat the Cardinals 2-1.
Moss, making his sixth career start, was wild in his longest outing in the majors. He walked seven including two in the seventh inning and bounced a handful of deliveries to the plate.
Moss had only two 1-2-3 innings, and was helped by a double play in his final inning. At that point, Braves manager Bobby Cox decided Moss had pitched enough.
"I wanted to see him throw a no-hitter worse than you guys," Cox said. "But he had so many pitches he wasn't going to make nine anyway, and he was tired, he was done.
"I think he'd rather have a good arm next year rather than a no-hitter."
Pinch-hitter Keith Lockhart, who was in the on-deck circle when the last out of the seventh was made, grounded out batting for Moss leading off the eighth.
After being taken out, Moss stayed in the dugout, talking to Tom Glavine. Moss looked unfazed, casually carrying on a conversation with the Braves ace.
Vina broke up the no-hit bid with a single off Remlinger's glove.
Cardinals starter Matt Morris was almost as good as Moss, giving up three hits in eight scoreless innings.
Phillies 3, Rockies 2
Philadelphia Brandon Duckworth's pitching and hitting sent Philadelphia over Colorado, handing the Rockies their first loss under new manager Clint Hurdle. Hurdle had been 6-0 since taking over when Buddy Bell was fired on April 26. Duckworth (2-2) pitched 61/3 innings and also hit an RBI single. He gave up two runs on seven hits and three walks.
Mets 11, Astros 3
Houston Jay Payton homered twice and John Valentin drove in four runs, leading Pedro Astacio and New York over Houston. Payton had the first multihomer game of his career, connecting with Jeromy Burnitz in a five-run ninth inning. Valentin homered and doubled twice as the Mets won for the seventh time in eight games.
Marlins 8, Brewers 4
Milwaukee Preston Wilson hit a pair of home runs as Florida rallied past Milwaukee. Wilson's three-run homer highlighted a five-run burst in the seventh inning as the Marlins overcame a 3-1 deficit.
Diamondbacks 6, Expos 3
Phoenix Curt Schilling struck out 14, and Arizona hit three straight homers for the second time in six days. Schilling (6-1) allowed five hits in seven innings, including solo homers by Vladimir Guerrero and Michael Barrett.
Giants 6, Reds 1
San Francisco Jeff Kent hit a three-run homer and Kirk Rueter came close to his first shutout since 1995.
Pirates 6, Padres 4
San Diego Kip Wells pitched shutout ball into the eighth inning and hit a home run as Pittsburgh broke out of its offensive slump by beating San Diego. Rob Mackowiak also homered as Pittsburgh ended its season-high four-game losing streak.
Cubs 8, Dodgers 3
Los Angeles Fred McGriff homered twice and drove in four runs, and Alex Gonzalez hit a two-run shot as Chicago beat Los Angeles.
Late Thursday game: Dodgers 3, Reds 2, 14 innings
Los Angeles Adrian Beltre singled home the winning run in the bottom of the 14th to lift Los Angeles.
Copyright 2018 The Associated Press. All rights reserved. This material may not be published, broadcast, rewritten or redistributed. We strive to uphold our values for every story published.