All Lawrence High coach David Petry could do was shake his head.
"It's amazing what 24 hours can do, isn't it?" the befuddled coach said.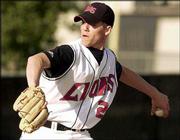 Petry was commenting on Thursday night's 10-6 loss to cross-town rival Free State High. The struggling Firebirds defeated Lawrence, but a day later the Lions played as if impostors had donned their uniforms the day before.
Lawrence (13-6, 8-1) swept Friday night's doubleheader against Leavenworth at Ice Field, winning the first game 9-3 and run-ruling the Pioneers (11-7, 7-2) 13-0 in the nightcap after five innings.
"This is how I thought this team would play all year long," Petry said. "I knew we had the ability to hit, play defense and pitch, but we haven't been able to put all three together in one game yet this season."
Lawrence's complete package included a 5-for-8, seven RBIs and a grand slam by senior right fielder Mike Morrell. Junior third baseman Tommy Mangino wasn't far behind as he was a perfect 3-for-3 with a sacrifice fly and four RBIs in the first game and two hits, a double and two RBIs in the second.
The Lions totaled 26 hits, including doubles.
Not to take anything away from the Lions' offensive outburst, but the Pioneer pitching was not at its best. Leavenworth's ace, Blake Howard, had missed the last 10 days because of shoulder problems and just Thursday was cleared by his doctor to play.
When Jeff Elrod took the mound in first inning of the second game he was making his first career start at the varsity level.
"Their No. 1 guy had just been cleared by the doctors and they didn't want to risk him," Petry said. "I think Leavenworth's coaches made a good decision. It doesn't matter right now if you have him. It matters for regionals."
Lawrence received strong outings from two junior pitchers in both games.
Taylor Martin started the first game and battled back after a rocky start he allowed three hits, walked two and yielded two runs in the first inning and permitted five hits over five innings.
Even more impressive was Aaron Madill's relief appearance. The junior no-hit the Pioneers for the final two innings of the first game and threw a complete game, four-hit shutout in the nightcap.
"Aaron Madill, what a job he did today," Petry said. "Taylor Martin hadn't pitched in 10 days and I thought he would be a little rusty and he was. But after the first inning he settled down and got in a groove."
The loss to Free State on Thursday dropped Lawrence from second to fourth in its region, but the two wins against Leavenworth just the first game counted in Sunflower League standings help the Lions' cause for a league championship.
"As long as we keep winning," Petry said, "there's nothing to worry about."

Lawrence 9, Leavenworth 3
Leavenworth 200 010 0 3 5 1
Lawrence 003 330 x 9 14 0
WP Taylor Martin. LP Glen Lemke.
Top hitters Lawrence: Tommy Mangino 3-3, 4 RBI's; MIke Morrell 3-4, 2 2B, 3 RBIs. 3 R. Highlights Derek Bailey and Morrell hit back-to-back doubles in bottom of fifth to key 3-run inning.
Lawrence 13, Leavenworth 0
Leavenworth 000 00 0 4 1
Lawrence 330 7x 13 12 1
WP Aaron Madill. LP Jeff Elrod.
Top hitters Lawrence: Mike Morrell 2-4, 2B, Grand Slam, 4 RBIs; Tommy Mangino 2-4, 2B, 2 R, 2 RBIs; Paul Houle 3 RBIs; Rob Scott 2-4, 2 R, RBI. Highlights Morrell's 1-out 350-foot grand slam in the bottom of the fourth to give Lawrence a 13-0 lead.
Copyright 2018 The Lawrence Journal-World. All rights reserved. This material may not be published, broadcast, rewritten or redistributed. We strive to uphold our values for every story published.