Jerusalem — Israeli Prime Minister Ariel Sharon will fly to Washington this weekend with his own plan for peace and deliver a 100-page document that seeks to tie Palestinian leader Yasser Arafat directly to terrorist attacks.
Sharon will voice support for a Palestinian state, propose rebuilding what Israel destroyed and demand that the fractured Palestinian security forces unify under a single command, according to Zalman Shoval, a senior adviser to Sharon and a former Israeli ambassador to the United States.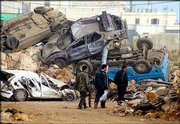 Sharon also will unveil plans for a series of fences, ditches and gates that would separate Israel from the West Bank when he meets with President Bush on Tuesday.
While Sharon's plans do not offer a radical departure from ideas he has discussed before, meeting Bush in Washington provides an opportunity to advance a political dialogue needed to curtail conflict in the region.
Sharon's new peace and security plan will express support for an independent Palestinian state, despite strong objections from hard-liners in his right-wing Likud Party, Shoval said. The prime minister also will assert that any political advance will come only after Palestinian suicide bombings and shootings have stopped.
Sharon's determination to leave open the option of entering Palestinian-controlled areas was underscored Friday in the West Bank City of Nablus.
Israeli troops raided a bomb factory there run by the militant group Hamas, and in the explosion that resulted from a gunfight an Israeli commander and two Palestinians were killed, including a militant who security sources say was involved in the Passover attack at a Netanya hotel that killed 28 people.
An effort to restart negotiations to end the stalemate at Bethlehem's Church of the Nativity collapsed Friday, after a deal to deliver food to scores of priests, civilians and gunmen seeking sanctuary inside fell through.
Four more Palestinian police left the compound Friday, saying they were too hungry to continue.
On Sunday, Israeli Cabinet Minister Danny Naveh plans to make public a document that ties together papers the Israelis have recovered over the last month that they say prove that Palestinian leader Yasser Arafat is directly involved in terrorism.
The prime minister's office said late Thursday that four senior figures in Arafat's Fatah political organization, who are in custody, have told interrogators that the Palestinian chairman personally approved funding for Fatah operatives "with the knowledge that it would be used to finance terrorist attacks against Israeli civilians."
Meanwhile, the United States is proposing an international Middle East conference.
Secretary of State Colin Powell announced the plan Thursday, with the support of U.N. Secretary-General Kofi Annan, leaders of the European Union and Russian Foreign Minister Igor Ivanov.
Officials are suggesting the peace conference will be held in June in Europe. The invitees are expected to include parties which have shown an interest in advancing the peace process, an official said.
Copyright 2018 The Lawrence Journal-World. All rights reserved. This material may not be published, broadcast, rewritten or redistributed. We strive to uphold our values for every story published.