Erfurt, Germany — Tens of thousands of mourners Friday filled this city's main square to remember those killed in one of the world's worst school shootings, huddling silently in the rain at the flower-covered steps of an ancient cathedral as Germany's president read the names of the gunman's 16 victims.
Chancellor Gerhard Schroeder and other national leaders joined teachers, police officers and youngsters from across the region for the ceremony, one week after expelled student Robert Steinhaeuser gunned down 13 teachers, two students and a policeman at an Erfurt high school, then killed himself.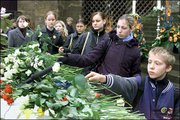 "Germany is in mourning, and the world is shocked," said Thuringia state governor Bernhard Vogel, speaking in front of a 30-foot-high white cross and sprays of flowers at the foot of the city's gothic cathedral. "This deed has struck wounds that will never heal completely."
Police estimated the crowd in Erfurt at 100,000.
An orchestra played music from Franz Schubert's eighth symphony, and people on the square, squeezing under umbrellas in a light drizzle, observed a moment of silence at noon as church bells pealed all over the state. An outdoor memorial service was held following the ceremony.
Led by German President Johannes Rau, speakers called for a national self-examination to combat the shock and grief that has gripped Germany since the April 26 shootings at Erfurt's Johann Gutenberg Gymnasium high school.
"We must respect each other, and we must take care of each other," Rau said. "We must defend ourselves against the brutalization of our society."
In an apparent reference to Steinhaeuser's troubled school career, he said "no one must be pushed to the side" because of competitive pressures.
On Oct. 1, school officials decided to switch Steinhaeuser to another school after the teen forged a doctor's note to skip classes.
Friday's memorial began at 11:05 a.m. the time police received a call from the school janitor that someone was shooting. Public life in this east German city of 200,000 came to halt as schools and shops closed so people could gather in the huge cobblestone square in the heart of Erfurt.
Mourners, many dressed in black, brought flowers and wreaths to the cathedral steps. A white banner with the names of the victims hung to one side of the podium, next to a large picture of the school's front facade set against a bright blue sky.
On Thursday, Steinhaeuser's parents and older brother asked for forgiveness in an open letter published in local newspapers, saying they could not explain his pent-up "hate and despair."
"Until this brutal act of madness, we were an absolutely normal family and we knew a different Robert," the family said.
Students from other schools in Erfurt and surrounding communities packed the service to show their support.
"What happened was horrible, but the ceremony was beautiful," said Claudia Wendt, 17, a student at a vocational school in Erfurt. "It helps to talk about it."
Steinhaeuser, 19, was a gun club member. A few weeks after he was expelled, he received a weapons permit that allowed him to own the pistol and pump-action shotgun that he sneaked into the school the day of the shootings. Police say that even on the morning he set out to kill, his parents still believed he was attending school.
Authorities have said Steinhaeuser apparently prepared the attack for months, stockpiling about 1,000 rounds of ammunition over time.
Copyright 2018 The Associated Press. All rights reserved. This material may not be published, broadcast, rewritten or redistributed. We strive to uphold our values for every story published.