Welch, W.Va. — Rescue crews in helicopters and four-wheel-drive vehicles searched through the steep valleys of Appalachian coal country Friday after flash flooding left at least four people dead and 12 missing.
Five inches of rain fell in six hours Thursday, sending streams and rivers surging out of their banks in the mountainous area where West Virginia, Kentucky and Virginia meet.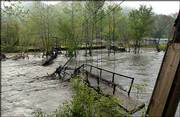 Some communities were cut off by mudslides and others had water up to the eaves of homes in a deluge so powerful that people lashed themselves to trees. More than 100,000 homes and businesses lost power at the peak of the storm.
"It was like the mountain just opened up and water started to come out," said Brenda Blankenship, postmaster of tiny Hurley, Va. "Everything is demolished. All the businesses in Hurley are gone, houses are gone. They're just gutted."
At least three people in West Virginia and one person in Virginia were killed. Authorities spent Friday looking for at least 14 people reported missing: eight in West Virginia, five in Virginia and one in Kentucky.
"People were tying themselves to trees. They couldn't get helicopter assistance in. It was awful," said Vicky Jones, a dispatcher with the Buchanan County, Va., Sheriff's Office.
Two people who had been unaccounted for in Buchanan County were found Friday night with friends or family, said State Police Sgt. M.F. McMurray.
The Tug Fork river, which separates West Virginia from Kentucky for miles, rose steadily Friday.
Officials in Williamson closed the flood doors for the first time in their 18-year existence, but parts of the community of 3,400 people were already swamped.
Across the river in Kentucky, about 350 homes were evacuated. Dozens of people gathered on the roadsides overlooking Goody, Ky., and watched as the murky waters covered their yards. In some places, only rooftops could be seen.
Others were more fortunate.
"In the last flood I had to be taken out by boat. At least this time I had enough warning," said Vickie Taylor-True, who spent the morning carrying valuables from her home in Hardy, Ky.
Virginia Gov. Mark R. Warner's office said about 200 houses in Buchanan County had been damaged or destroyed. An undetermined number of structures were damaged in Kentucky. In West Virginia, Gov. Bob Wise, who toured the area by helicopter and on foot Friday, estimated that at least 375 homes and 30 businesses were damaged.
"We're going to see a lot of digging out for a long time to come," Wise said.
McDowell County, W.Va., was hard hit again, just 10 months after devastating floods damaged hundreds of homes. All of West Virginia's dead and missing were in the county, but more than a dozen highways were impassable and searchers had to rely on helicopters.
"It could be a situation that the people are not accounted for because they went to a shelter or a friend's home to get away from the high water," said Mark Rigsby, a West Virginia emergency services spokesman.
Several water systems in the county were shut down after the runoff sent waste from an old coal mine into the water supply. Mudslides had also left the town of Bradshaw virtually inaccessible.
"They can't call out. No one can call in. They can't even call 911," said Paul Miller, a spokesman with the Verizon telephone company. "We have no idea how long they will be without service because we can't get to the problem. We can't even get four-wheel-drive vehicles in there."
In Welch, W.Va., 15 students spent Thursday night at an elementary school after a rock slide closed their route home. Parents living nearby brought blankets and pillows, and the staff provided hot dogs and fries.
Shelters were set up across the region. Nearly 90 people showed up at the Rev. Hilda Kennedy's Highland Educational Project church late Thursday because the road was impassable.
Copyright 2018 The Associated Press. All rights reserved. This material may not be published, broadcast, rewritten or redistributed. We strive to uphold our values for every story published.