Friday night was the first time Free State High senior Kelli Criswell swam a Sunflower League meet in Lawrence's Indoor Aquatic Center the home pool of the Firebirds, which was built last year.
Ditto for freshman Ashley Jackson.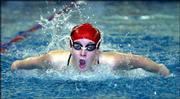 But both used the momentous occasion to put on a show for their home fans as each qualified in four preliminary events Friday night to advance to today's 1 p.m. finals.
"We've got great senior leadership and a slew of freshmen who step up, but they are the leaders of both groups," Free State coach Jama Crady said of Criswell and Jackson. Her team has a shot for a top-five league finish when the meet continues at 9 a.m. today.
Like Free State, Lawrence High is on pace for a high league finish.
Senior Andrea Hemphill, who will swim next year at the University of Iowa, won the 50- and 100-yard freestyle prelims. Her times in each event 25.08 in the 50 and 54.68 in the 100 were the fastest on the day but just under her state-best marks in both races.
Three other Lions and LHS' 200 medley and 200 freestyle relay teams also advanced to the finals.
Junior Sarah Marlow qualified in the 500 free with a time of 5:19.00 and the 100-breaststroke in 1:13.59. Melissa Little advanced in the 200 and 500 freestyles, while her sister, Megan, took fifth in the 100 butterfly.
"I'm pretty sure we'll be top five," said LHS coach Ryan Adams. "A couple of the swims I was hoping for a little more but others I was surprised. It all kind of evened out for a pretty good first day."
For Crady, every day this season has been special with her mix of young and old leaders.
"Criswell is the most team-orientated person I've ever seen," Crady said. "She puts the team over herself every time. I couldn't ask for a better leader on my team and I don't know how I'm going to replace her."
She'll likely replace her with Jackson,.
"It's really nice to have another person there leading the team with you," said Criswell, who will swim next year at Truman State. "Jackson seems like she's just as old as me. I've been swimming with her forever and we really feed off one another."
That the pair did Friday especially in the 200 freestyle when Jackson finished second in 1:59.99, while Criswell took fifth in 2:02.83.
But that was just the beginning of their first-day heroics.
Criswell also slipped into the 100 butterfly finals in 1:03.25 and helped both the 200 medley and 200 freestyle relay teams qualify.
Jackson joined Criswell on the relay teams and also ruled the competition in her specialty stroke the 500 freestyle beating the next competitor by a pool's length.
"Yeah I won both my events but I didn't swim that well in the 500," said Jackson, who was 10 seconds off her season-best time of 5:07.00, despite the big margin of victory.
"But as a team we did really well, especially Criswell, who has been a tremendous help to me all season."
Copyright 2018 The Lawrence Journal-World. All rights reserved. This material may not be published, broadcast, rewritten or redistributed. We strive to uphold our values for every story published.