A new camera installed in the Hubble Space Telescope in March is capturing images of some of the most distant features of the universe, said scientists who released the camera's first snapshots Tuesday.
The camera "is a wider window, it's a clearer window," said Holland Ford, an astronomy professor at Johns Hopkins University who led the team that built the camera. "With this camera we will get the deepest view of the universe that humanity has ever had."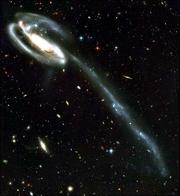 These pictures of colliding galaxies and swirling nebulas taken by the new Advanced Camera for Surveys each took only about one day to shoot. In contrast, the Wide Field Planetary Camera 2, built at JPL and installed in 1993, took 10 days to make images of distant galaxies.
The Advanced Camera doubles the resolution and field of view of the Wide Field, which offered researchers a tiny, postage-stamp view of the sky, said deputy investigator Garth Illingworth, an astronomy professor at University of California, Santa Cruz. The new camera is also five times as sensitive.
The improved resolution allows the scientists to see dim objects that have traveled farther away from Earth as the universe expanded, and are therefore older.
This is like getting information from what Ford calls the "twilight zone" the time period just after the Big Bang that has gone unseen by current telescopes because the objects there are too far away.
Ford estimates that scientists, using the new camera, will see as many stars and galaxies within the next year as were discovered in the entire 12 years of the Hubble's existence.
Among the photos released Tuesday, a shot of the "Tadpole Galaxy," located 420 million light years away in the constellation Draco, particularly excited the researchers. But it is what lies behind the brilliant streak of stars streaming away from the spiral galaxy that really excited researchers.
About 3,000 dim, distant galaxies could be identified in the background of that image, some from within 1 billion years of the birth of the universe.
Copyright 2018 The Lawrence Journal-World. All rights reserved. This material may not be published, broadcast, rewritten or redistributed. We strive to uphold our values for every story published.