Call it a game of H-O-A-R-S-E.
The Jayhawks' first trip to the Final Four since 1993 has been accompanied by a rise in the number of raspy-voiced fans around Lawrence. Many of the Kansas University faithful cheered so hard during Sunday's Elite Eight victory over Oregon that they strained their poor vocal cords.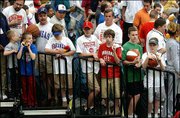 As a result, Marty Kennedy had to croak his way through two city commission meetings this week.
"It actually started with a few yells at the television," he said. "I was in a local pub watching the game with some friends cheering on the Jayhawks."
And Shannon Norwood, general manager at Molly McGee's, said laryngitis has been common among her employees this week.
"We've had quite a few people like that," she said. "We're all pretty hoarse it's like being in Allen Fieldhouse, with all the cheers and chants during the game."
This doesn't surprise Michael Hammer, a speech-language pathologist at KU Medical Center in Kansas City, Kan. He's noticed an increase in the number of husky-voiced Hawk fans this week.
"I say shout all you want," he joked. "It's the Jayhawks."
But it does worry Sara Wentz. She's director of the 40-member First United Methodist Church choir, which must sing its way through two Easter Sunday services the day after KU plays Maryland in the national semifinal.
"I could encourage them not to yell at the game, and probably should," Wentz said.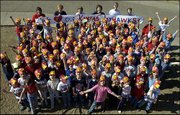 There are ways to prevent damage, however.
"You should not do any spitting in the river, as in past instances, because you'll need all that saliva," Lawrence physician Carla Phipps said, poking fun at one of coach Roy Williams' superstitions.
Hammer suggested drinking lots of water and staying away from alcohol and caffeine, which dry out the vocal cords.
"If you really want your voice to stay healthy, clap your hands a lot," he said. "But I don't know how realistic that is."
Matthew Elliott, a KU law student, was just starting to get his voice back on Thursday after losing it at the Allen Fieldhouse celebration Sunday.
"I'm definitely not going to yell this weekend, because I don't want to do any permanent damage," he said. "It'll be hard, though."
Wentz, meanwhile, is hoping for some divine help.
"In Lawrence, when you get a team in the Final Four, you've got to cheer," Wentz said. "Maybe God will understand this and provide us with healthy voices on Sunday morning."
Copyright 2018 The Lawrence Journal-World. All rights reserved. This material may not be published, broadcast, rewritten or redistributed. We strive to uphold our values for every story published.